How to Counter Black Friday and Cyber Monday Bracketing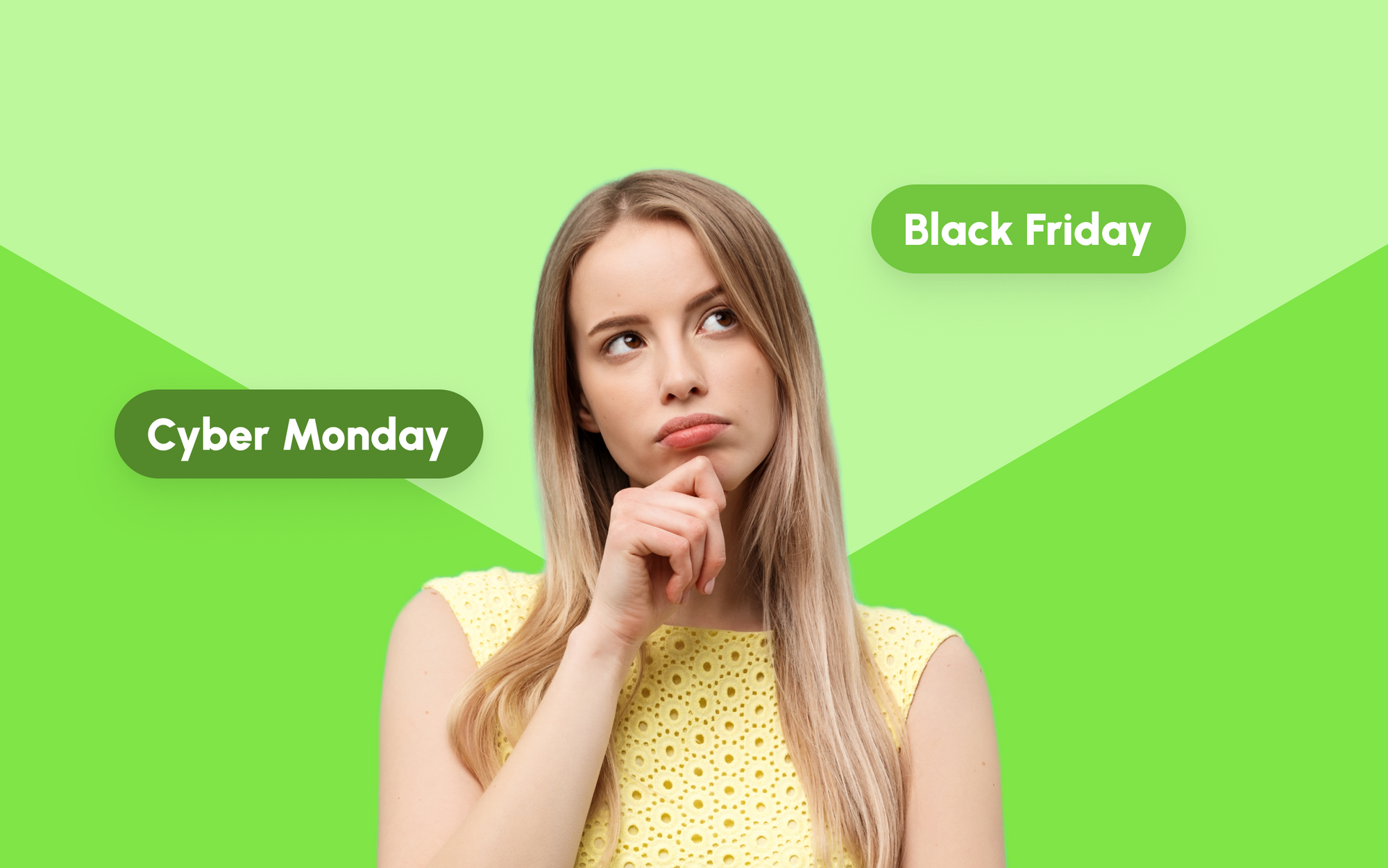 Imagine that you are shopping online for a new trench coat. The website you decide to buy your new furry companion from is new, and you are not entirely sure what size you want. You are pretty sure of the color, but you're mulling over another shade that caught your attention. You buy four new trench coats in two sizes and two colors to return at least two of them.
Pretty awesome for you, but the retailer—not so much. In reality, many customers shop online this way. And while it seems an ideal situation for customers, it's highly unfavorable for retailers. Black Friday and Cyber Monday (BFCM) are around the corner, and though retailers prepare in advance to tackle the large order volumes, they dread what has practically become an eCommerce tradition—bracketing.
What is bracketing?
Bracketing (aka buy-and-try) is a new "hidden" return problem for retailers that has gained momentum in the last few years. Customers have substituted the fitting rooms for at-home try-ons, buying multiple product variations to return the ones they don't like. The concept is a close companion of another shopping habit, "wardrobing"—where customers buy a product for a special event or occasion and return it after use.
Bracketing has become standard in the apparel and furniture industry, where size, color, and quality often feel like a gamble. Ordering in bulk to find the right fit may seem innocent from the customer's perspective, but it incurs huge return costs for online retailers. It increases the volume of items returning to the warehouse or fulfillment center and reduces the fresh inventory's holding capacity. Free returns put a massive dent in a retailer's pocket, demanding more storage and labor without guaranteeing that the returned items will ever find a new shopping cart again.
According to a report by The Wall Street Journal, each returned item costs retailers $10-$20, excluding freight. Imagine how much money your business will lose if bracketing runs rampant during the peak holiday season.
Fortunately, there are methods to reduce the impact of bracketing. Read on to learn how to protect your store from bracket-happy shoppers.
Importance of a clear return policy to counter bracketing during BFCM

Though there are no surefire ways to prevent bracketing, a few measures exist to pull the plug, especially when the holiday season is in full swing.
Questionable shopping habits are pushing retailers to develop clear and concise return policies displayed clearly at critical purchase locations. With the right return policy, the chances of customers making so many returns, especially when you are already struggling with colossal order volumes and higher on-time delivery expectations, can be curbed.
Return policies laced with conditional agreements, such as time limits, non-returnable items, and return costs, must be defined and expressed clearly at the time of purchase. Conditional agreements in your return policy force customers to act cautiously.
Manage customer expectations better
It's always advised to manage your customer's return expectations from the beginning to avoid any misunderstandings in the future. Customers must have all the information they need before making a purchase, including the return windows, product types eligible or ineligible for return, and if there are any restocking fees, to establish clear guidelines for returns. A detailed return policy also encourages customers to make wise purchases and buy only what they need.
Save time and effort
Returns are costly and time-consuming, and you run short of both when flooded with festive cheer. In addition to being as specific and detailed as possible with your Return and Refund policy, ensure it's also displayed prominently at crucial decision points to ensure your customers have all the answers about returns, exchanges, and refunds well in advance. It will reduce incessant WISMO calls to your support team and improve the customer shopping experience.
Minimize fraudulent returns
The chances of fake or fraudulent returns increase when you allow returns, which can double blow your business's bottom line. The retailers must endure the cost of shipping and holding and the uncertainty of whether the items will ever be sold again. A clear Return and Refund policy is a great way to warn customers who always intend to return the items that you reserve the right to refuse returns as a penalty for this shopping behavior.

Reduce cost and retain revenue
Returns can become too costly for your business if you sell cheaply. To minimize the cost of returns and improve customer retention, offer easy exchange options or store credit as a return resolution and include restrictions on what is accepted for exchange and up to what period.
For example, if a customer returns a product and lists "color" as the return reason, you can offer a different color of the same product as an exchange.
How to reduce bracketing and returns with AfterShip Returns
AfterShip Returns is an online self-service returns automation platform that allows you to streamline the returns experience for your customers and yourself by automating everything from when a return request is raised until it is resolved. The platform enables you to set up your own return rules and conditions to avoid overstocking, minimize returns, and reduce costs which become inevitable with better offers and high discounts during BFCM.
Moreover, BCFM is an excellent time for customers to buy four things at one price, leading to more sales and an even higher return rate. With AfterShip Returns, you can counter the increased events of bracketing and avoid unnecessary returns with smart eligibility rules for:
Eligible returns per order
Non-returnable items
Eligible items for return
Allowlist and blocklist settings
Flexible exchange options

Set up blocklists and non-returnables to avoid unnecessary returns
Bracketing has become a real cost driver. Almost 1/5th of online fashion purchases today include orders with several items of the same size, shape, or color because customers expect a free or cheap return. The BFCM week comes with additional costs and challenges in the form of eCommerce serial returners acting as wardrobers and fitting roomers, who bulk-buy items, keep the ones they like, and return the rest.
Each return represents a loss to your business because of the shipping, warehousing, and environmental costs. If your return policy is unclear and the system of processing returns is inconvenient, you may lose both revenue and customers.
AfterShip Returns provides smart eligibility settings to help you curtail the actions of shoppers who return in bulk and significantly cut down return costs.
Blocklist allows you to build a list of items ineligible for return, exchange, or refund based on specific criteria like discounted items, product types, product tags, etc., to dissuade customers from overstocking and making returns. You can also blocklist the email addresses of customers you find increasingly prone to making unnecessary returns to automatically reject all their future requests.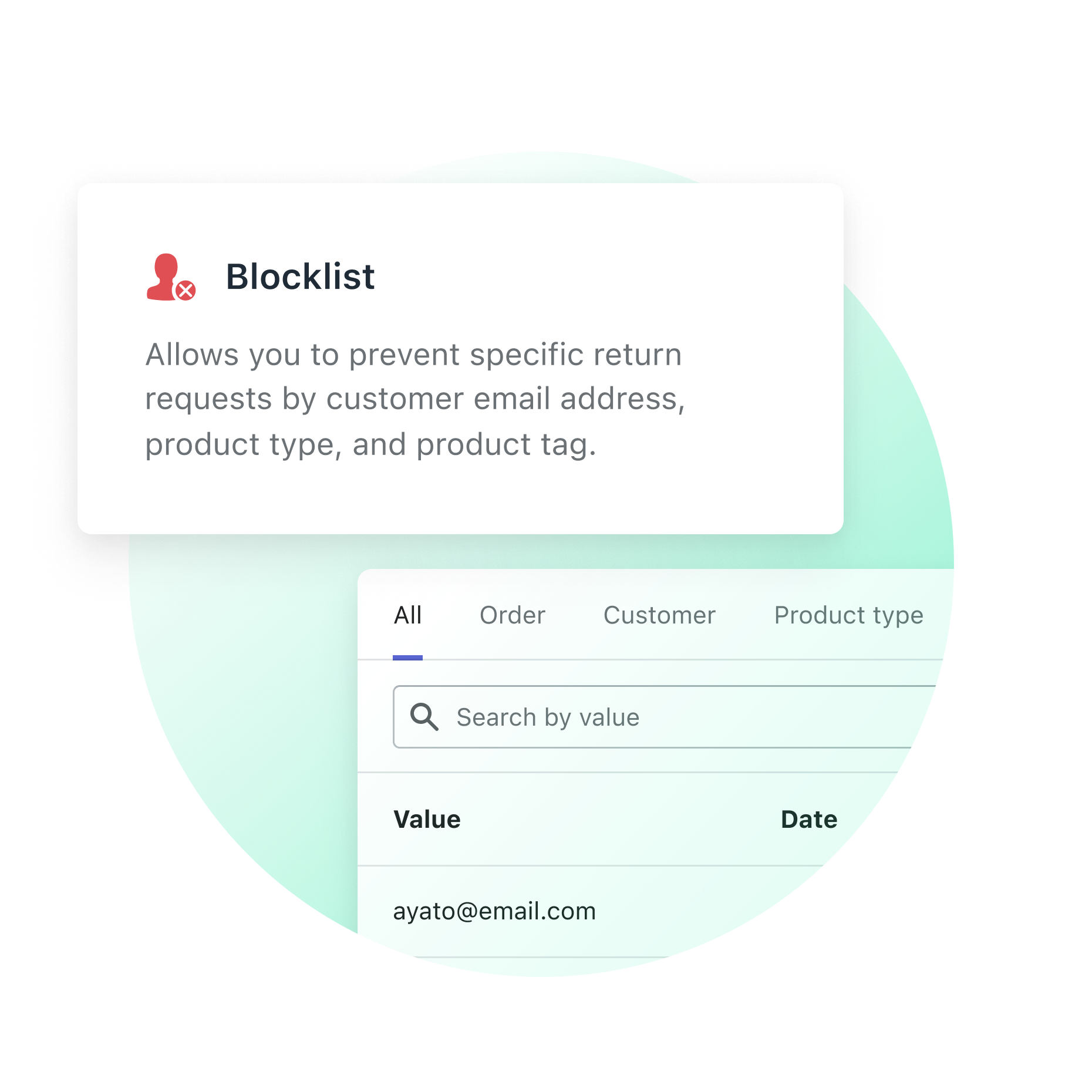 Non-returnables: Are there specific product types and categories that will cost you more to refund than what it will cost you to deliver? Create a list of items not covered under your return or refund policy on specific grounds like product categories, discounted items, return windows for specific product types or tags, and eligible returns per order. It will motivate customers to consciously reflect upon what they are buying and how much they want to buy to avoid making returns afterward.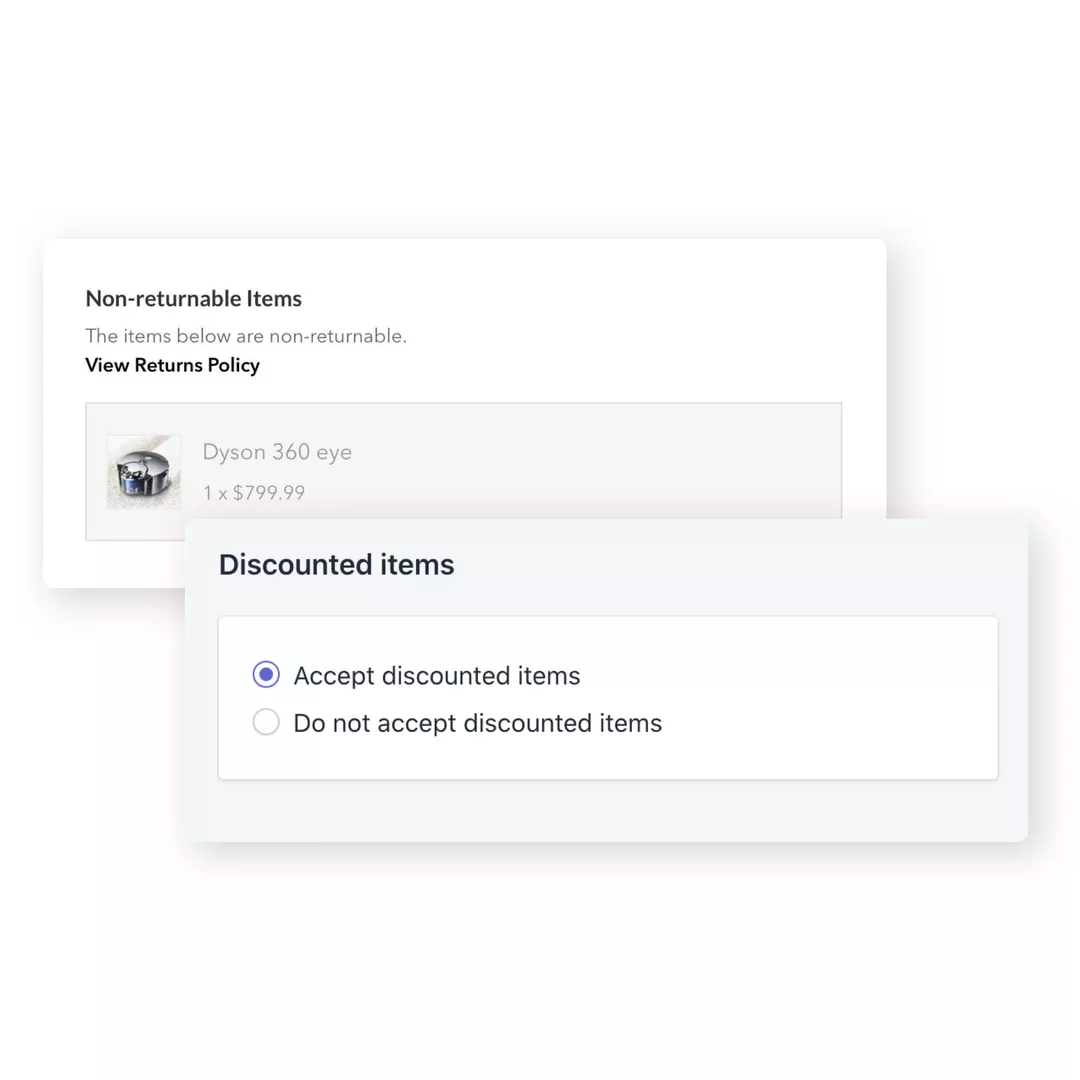 Make exceptions with Allowlists
Black Friday and Cyber Monday deals encourage customers to indulge in impulse buying. 70-80% discount on a piece of clothing may feel nothing to the customers in terms of price point when they load their carts to the brim. Still, specific products, especially consumer electronics, and furniture, can put a major dent in consumers' pockets if they do not get what they expected despite the huge discounts on which they got them.
In the unlikely event of a damaged, defective, or different item being delivered to the customer within a specific time frame, allowlist allows you to make exceptions for particular orders, product types, and customer email addresses. This list overrides all the existing ineligibility rules to let the customers make a return request quickly.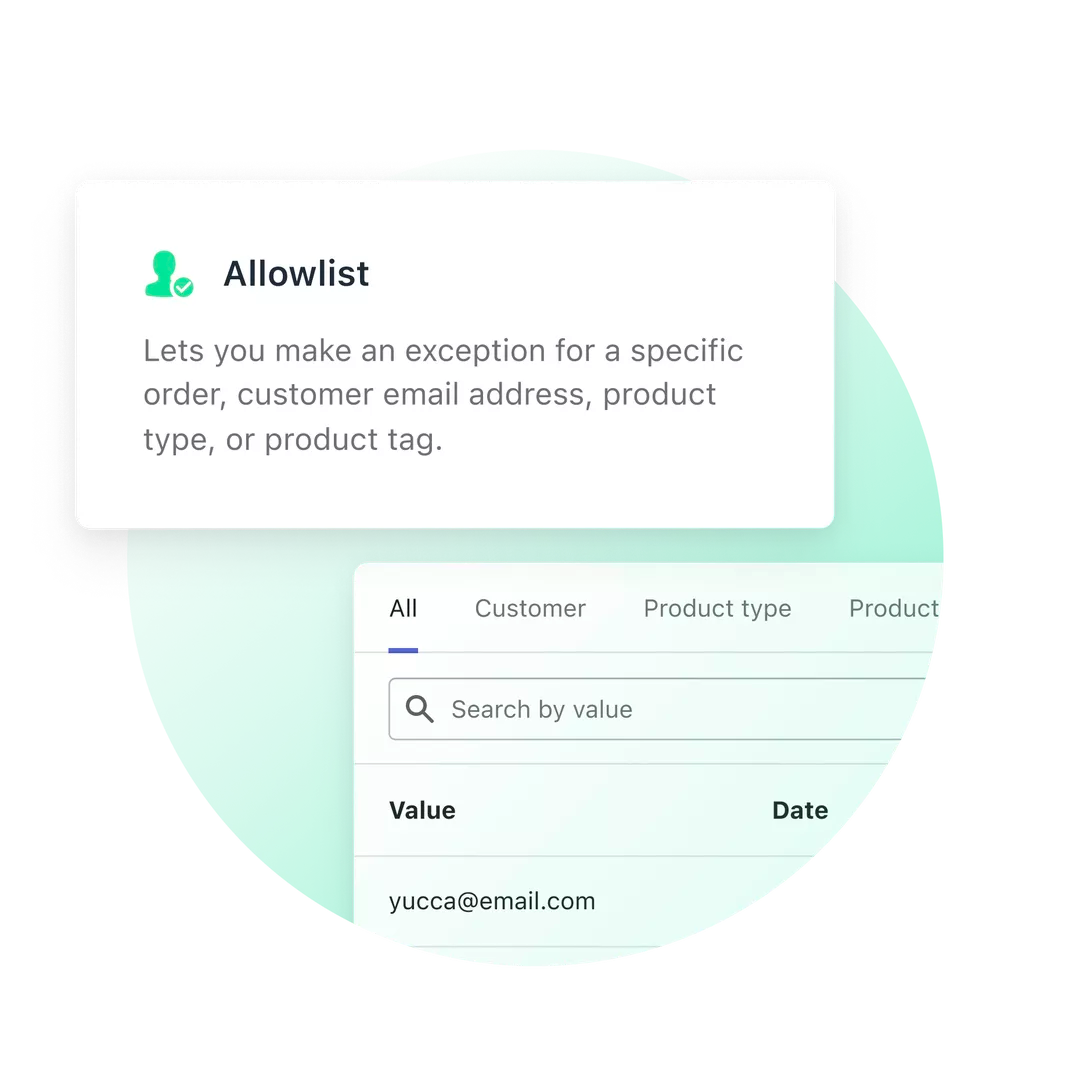 While BFCM is a suitable time for your business to multiply sales and increase revenue, it can lead to wrong customer expectations without a well-communicated and executed returns policy. With AfterShip Return's advanced returns eligibility features, you can set up clear guidelines and rules for returns, refunds, and exchanges for your customers and display them clearly on your websites so customers don't end up biting off more than they can chew.
Choose the plan that best serves your business needs and turn returns into new opportunities for sales, profits, customer loyalty, and retention.