What is a delivery exception? (+How to deal with them effectively)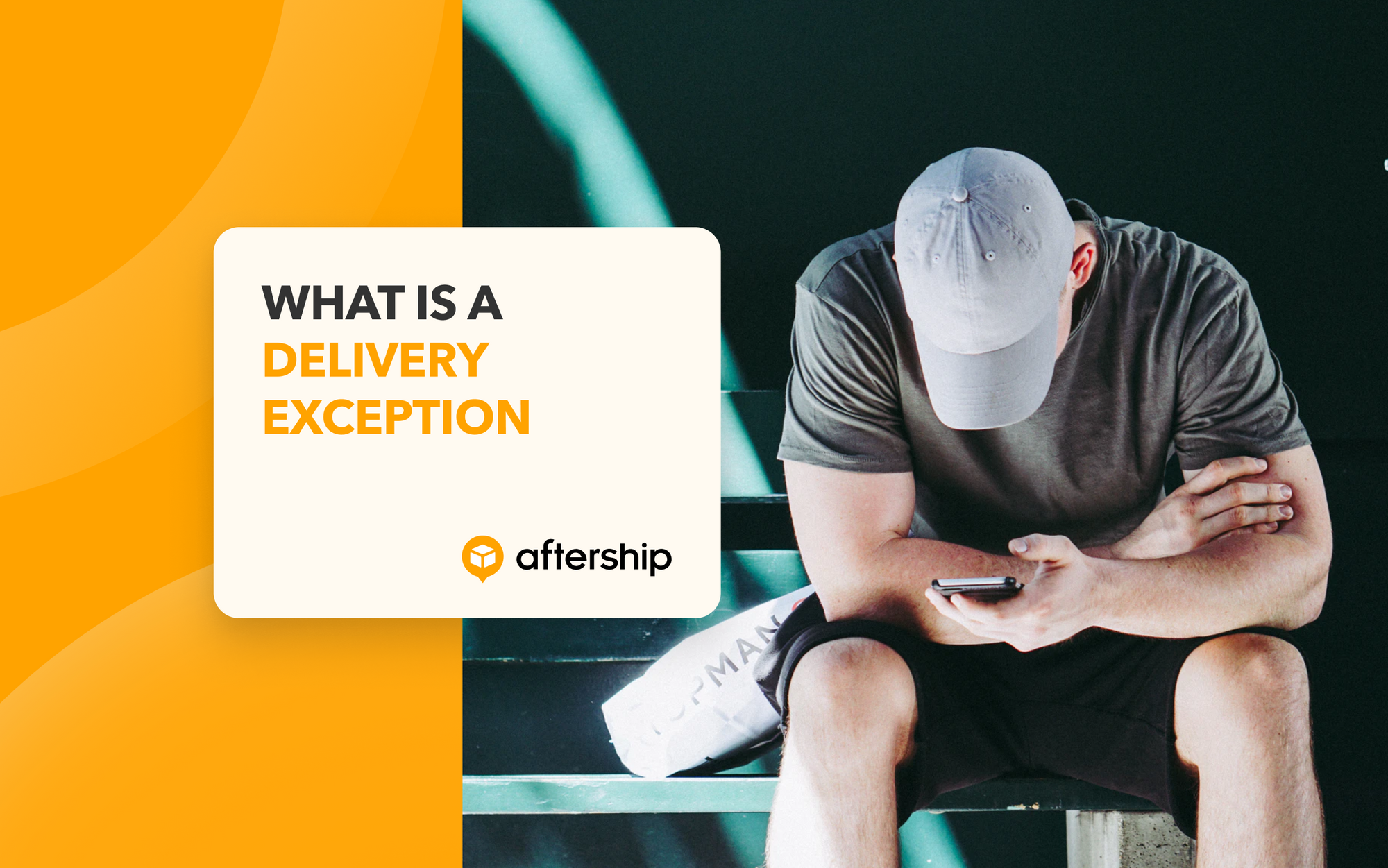 Cha-Ching. You made a sale! Now it's time to ship the order to the customer.
You take the necessary steps: printing the shipping label, sending the package to your carrier, and waiting for the tracking status to say 'delivered.'
But instead of marking the order as delivered, the courier updates its status to 'delivery exception.' Suddenly the customer is unhappy, and you're confused about what to do next.
Even though there's no way to avoid delivery exceptions completely, there are steps you can take to ensure your customers will leave you a good review, even if there was a hiccup during the shipping and delivery process.
So, if your business ships a lot of packages, it's important to learn about delivery exceptions and how to deal with them to ensure customer satisfaction.
What Is A Delivery Exception?
A delivery exception is a situation where an unexpected event or occurrence causes a shipping carrier to change the delivery date. When this happens, an alert goes out to the customer, notifying them that their order has met with some unexpected delay.
While delivery exceptions are sometimes caused by errors occurring during the shipping process, they usually happen because of environmental factors (like bad weather), customs delays, or the recipient's absence during an attempted delivery.
Regardless of the root cause, eCommerce businesses need to have a system in place to deal with shipping exceptions. Yes, they're unintentional and frustrating, but it's your job to ensure they don't result in a negative experience for your customers.
Keep reading to learn about the different types of delivery exceptions you may encounter, how the major carriers deal with them, and how you should handle them.
5 Types of Delivery Exception
We tend to take it for granted, but the ability to ship a package across the country (or across the globe) in a matter of days is an incredible feat of modern society.
With so many people, networks, technologies, vehicles, and pieces of machinery involved in the process, it's truly impressive that eCommerce businesses can rely on shipping carriers to complete their deliveries on time at all.
Naturally, delivery exceptions happen when there's a hold-up somewhere along the way. Here are 5 of the most common reasons for delivery exceptions:
Damaged labels or incorrect addresses
Damaged items
No signature
Inclement weather
Customs delays
Let's take a closer look at each one.
1. Damaged label or Incorrect Address
If the shipping label on a package is damaged or had the incorrect address on it in the first place, your carrier won't be able to complete the delivery. The same goes for ineligible labels.
Sometimes the carrier will reach out and ask for a corrected address, but other times this type of delivery exception could result either in the package being returned to the sender or delivered to the wrong address.
To prevent these delivery exceptions, make sure all the packages you send out have labels securely attached. It's also a good idea to place labels on the box or parcel where they're least likely to be damaged.
Of course, you'll also want to make sure your labels are accurate and legible. Ideally, you should print out your shipping labels rather than writing them. And always double-check the shipping addresses to ensure they match the address the customer gave you.
2. Damaged Item
Packages can get tossed around quite a bit as they make their way from point A to point B, and there's always the possibility of wear and tear before they arrive at the destination.
If your product or its packaging gets damaged before it reaches the customer, your carrier may not be able to complete the delivery, causing a delivery exception.
Do what you can to reduce the number of damaged item delivery exceptions you experience by making sure your items are packaged as securely as possible with the correct type of packaging.
For example, if you're shipping fragile items in padded envelopes and they often get damaged when shipped, you should probably use boxes with extra cushioning inside instead.
3. No Signature
Some shipments require a signature from the recipient to be delivered. This is a good precaution to take when shipping valuable items because it helps prevent stolen packages. However, it can also cause a delivery exception if nobody is present at the delivery location.
If the courier completing the delivery cannot reach anyone at the home or business to sign for the package, they may take it back and attempt delivery another day. After a few attempted deliveries without signatures, the courier will ship the item to the return address.
This type of delivery exception is more or less out of your hands as a business owner, but you can minimize the issue by making sure your customers are aware of the signature requirement. Let them know during checkout, or mention it in the order confirmation email you send. Then, encourage customers to track their packages with a tool like AfterShip, so they can make sure they're home when their package arrives.
4. Inclement Weather
The unofficial motto of USPS postage couriers is "Neither snow nor rain nor heat nor gloom of night stops these couriers from the swift completion of their appointed rounds." However, they can't always live up to it.
Inclement weather can cause a delivery exception, no matter how much effort is put into timely delivery. In the case of natural disasters such as hurricanes, tornadoes, blizzards, flooding, there's a chance that packages can be delayed or go missing.
Although your customers might be more understanding about weather delivery exceptions, it's still important to keep them updated on what caused the delay or delivery failure.
5. Customs Delay
Customs is a government service that regulates imported and exported goods in a given country. Sometimes a shipment runs into issues at customs and gets delayed, either when it's leaving your country or arriving at its destination country.
As a result, customs delays are a type of delivery exception that you only need to worry about if you ship internationally.
Paying proper duties and fees along with providing the appropriate documentation can help speed up the customs process. Get in touch with your shipping carrier for more information about customs documentation.
Additionally, it helps to know the shipping regulations in your country and the countries you intend to ship to. If certain rules apply to your product, it's best to inform customers that their order might be delayed due to customs processing.
FedEx Delivery Exceptions
Currently, FedEx cites its main causes for delays as heavy package volume, COVID-19 business closures, weather, and other disruptive events. If you want to stay updated on when these circumstances are relevant, you can sign up to receive service alerts from FedEx. With FedEx tracking, you and the package recipient will be notified in the case of a delay in delivery.
There are a couple of tracking updates that could indicate a FedEx delivery exception. If you get an update that says "No scheduled delivery date at this time," it could mean that FedEx does not have the package yet, or that there has been a delay in the process. The "Delivery exception" tracking update could indicate one of the common exceptions listed above.
If a FedEx courier could not complete a delivery, they may attempt it again on the next business day. Or they may leave a tag requesting the recipient pick up the package from the carrier's office or other authorized FedEx location.
USPS Processing Exceptions
USPS may issue tracking updates that indicate a processing exception or delivery exception when a package is delayed or cannot be delivered. If you get a USPS update that says "processing exception," it means your package has been delayed, most likely for one of the common delivery exception reasons.
Depending on the package status indicated in the update, USPS may attempt to deliver the package again on the next day (except Sundays). Or they may notify the recipient that they must pick up their package at the local Post Office before a certain date. The recipient may also get the option of choosing between the two delivery methods.
UPS Delivery Exceptions
Each time a package is scanned in the UPS system on the way to its destination, the tracking is updated. One of the most common UPS tracking updates you may receive is "Exception: Action Required." This indicates a delivery exception because of an incorrect address or damaged shipping label, and UPS asks that you update them with the correct information.
UPS will issue a "delivery exception" update in the case of a damaged package or no signature. For other delivery exceptions, you can access up-to-date information on weather and other uncontrollable circumstances when you check the service alerts on the UPS website.
DHL Delivery Exceptions
Because it's an international shipping service, you may encounter customs delays when using DHL. But as long as you supply the correct documentation, customs shouldn't cause a delay. However, do note that you may need to pay duties and taxes on the shipment — if you don't, DHL will not deliver the package until the recipient pays them.
Besides that, DHL delivery exceptions are the same as with any other shipping carrier. You will receive an update that says "exception" if your package is delayed because of a damaged item, inclement weather, incorrect address, or another type of delivery exception.
In some cases, DHL may ask you to supply an accurate address so that it can complete the delivery of your item.
How to Handle a Delivery Exception
As you can see, delivery exceptions are common across all major shipping carriers and can still occur despite the precautions you take to avoid them. So, as an eCommerce business owner, you need to be prepared to deal with delivery exceptions.
AfterShip integrates with several apps that can help you through the process of tracking packages, sending notifications, and ensuring customer satisfaction. Below, we've recommended a few apps that you can use to get a handle on delivery exceptions.
When facing a delivery exception, consider taking the following steps:
1. Keep Track of Order Statuses
The best way to stay on top of delivery exceptions is to keep track of order statuses for every package you ship. However, if you ship packages in bulk, it can be difficult to stay updated while tracking each one.
Apps like CSV Auto Fetch and ShipStation can assist you in aggregating all of your item tracking numbers in one central location, so you can keep them organized and be the first to know about any delivery exceptions.
2. Notify Customers
Notifying your customers about delivery exceptions lets them know that you're taking care of the situation and doing everything you can to get their items delivered ASAP. You can reach your customers on multiple channels to ensure they know you haven't forgotten about them.
Use the Attentive app to automatically send them SMS messages based on tracking data updates. You can also use Klaviyo to send real-time email updates. Tracking emails have a high open-rate, so consider them an opportunity to do some marketing as well.
Facebook Messenger is another way you can send updates and answer questions from your customers who're experiencing delivery exceptions.
3. Contact the Carrier
To find out what's really going on with your packages when transit updates aren't giving you the full picture, you should contact the shipping carrier for more information. It's easy to find carriers' contact information online.
Give them a call and see if they have any insight into the situation. You can then proceed with either issuing a refund or updating customers on their order status.
4. Issue Refunds
In the case of delivery exceptions such as lost or damaged items, or situations where the item was returned to the sender, your customers will want their money back — issue refunds as you feel is appropriate. You can keep customers happy after a delivery exception by offering them a discount on a future order as well.
Conclusion
When it comes to delivery exceptions, eCommerce business owners should expect the unexpected. Between natural disasters, damaged items, customs delays, and other issues, there's a lot that can go wrong.
However, if you know what to expect from different carriers and how to handle delivery exceptions when they do happen, they won't cause a major problem for your business in the long run.
Next step: Sign up to AfterShip to tackle delivery exceptions now.