On Track: Turning Returns into an Additional Source of Revenue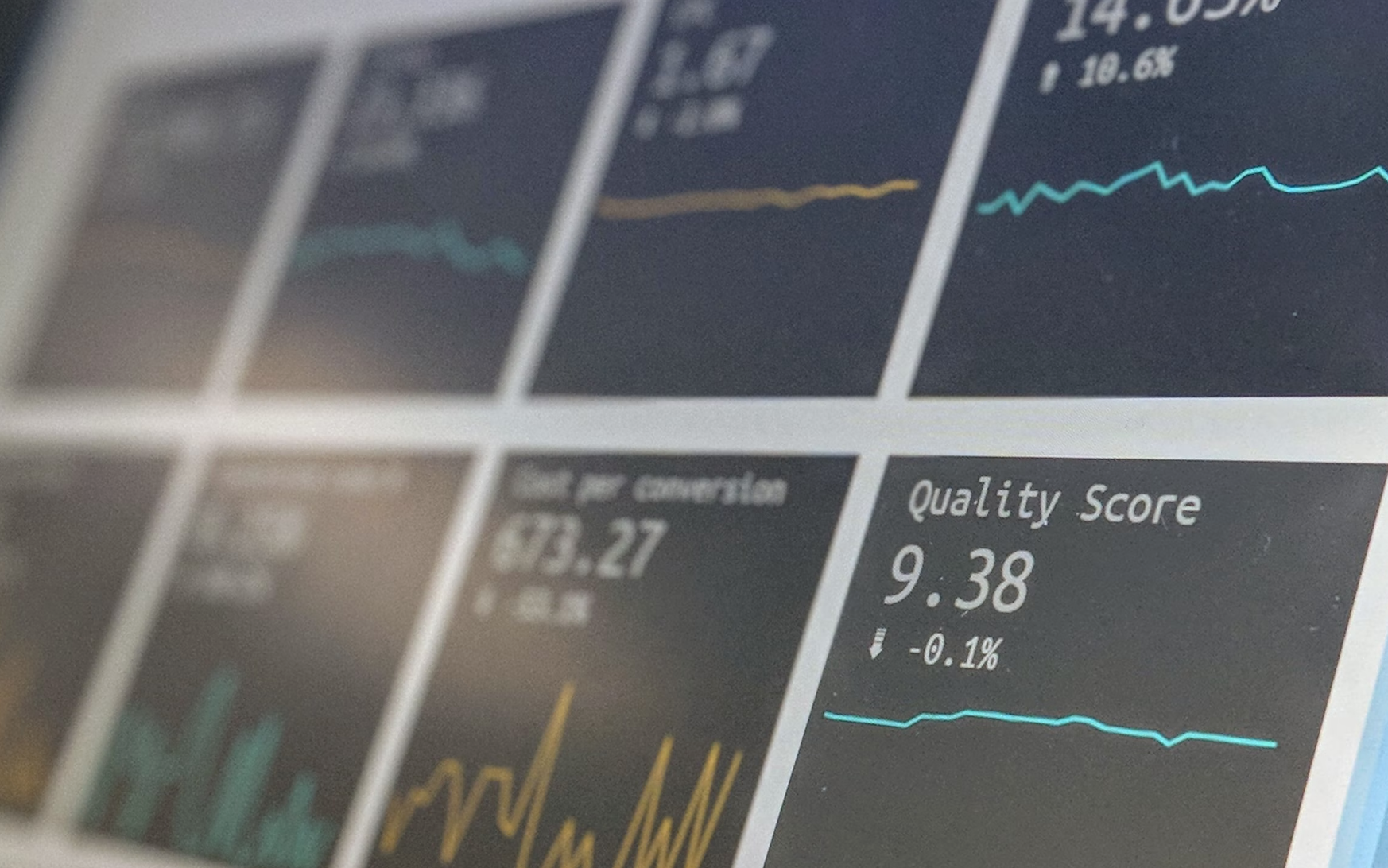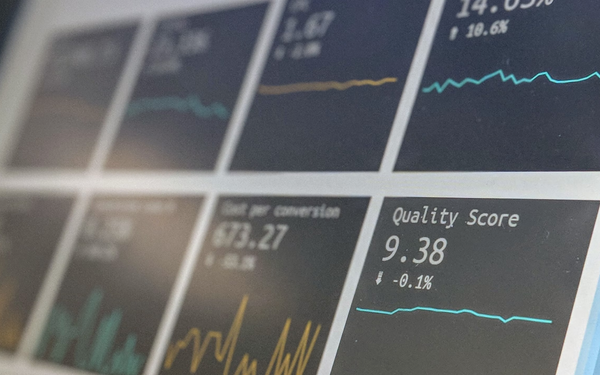 📊
Key Insight: Returns can be confusing and sour a customer's experience. Go beyond your customer's expectations and create another touchpoint for customers to shop anew.
As customer journeys evolve and become more complex, returns become ever more crucial. Seamless return experiences mean minimizing the risk of confusion while contributing to long-term customer satisfaction.
Improving returns presents an invaluable opportunity, even helping your experience stand out among competitors. According to a Shopify survey, 62% of customers expect an exchange or refund within 30 days of purchase. Meeting—and exceeding—this expectation can retain customers while also serving as a source of additional revenue.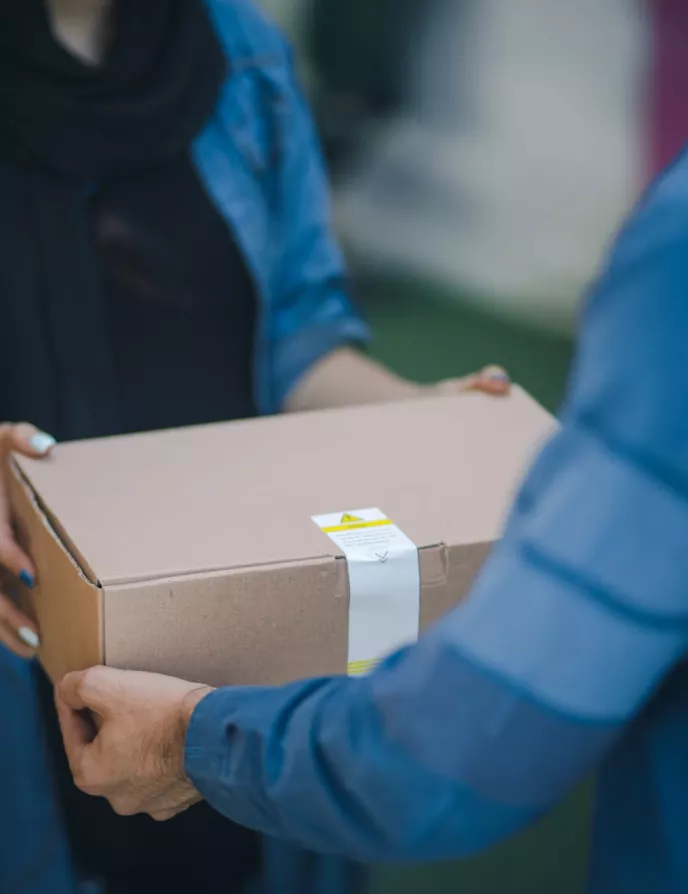 Best practice #1: Build a consistent experience with embedded and branded return pages
Your return experience offers an impressive list of opportunities to impress your customers. Like your other touch points, infusing your brand identity can help give customers a feeling of security. According to Accenture, 41% of U.S. consumers stopped shopping at a brand because of poor personalization and lack of trust. Customers can stay in a familiar environment, assuring that returning their return is safe and secure.
Here are some tips to help your branded returns page stand out:
Embed the returns experience directly within your store
A visible returns page on the website helps simplify the journey for customers. Ensure your return policy is easy to find, and offer multiple ways for customers to contact you. For a more seamless experience, embed your returns page directly into your store. Doing so streamlines your experience, avoiding the clunky experience of having to leave your site or log in multiple times.
Some of the best places to include your returns page are:
The header and footer of your website
On product pages, such as the product description or shipping information
In your navigation bar's dedicated "Returns & Refunds" tab
Brand your returns pages
Brand your returns page with a consistent look and feel that reflects the rest of your website. Strengthen trust and security while making it easier for customers to return to their original purchase. Including your logo, consistent fonts, colors, and a clear navigation bar is vital.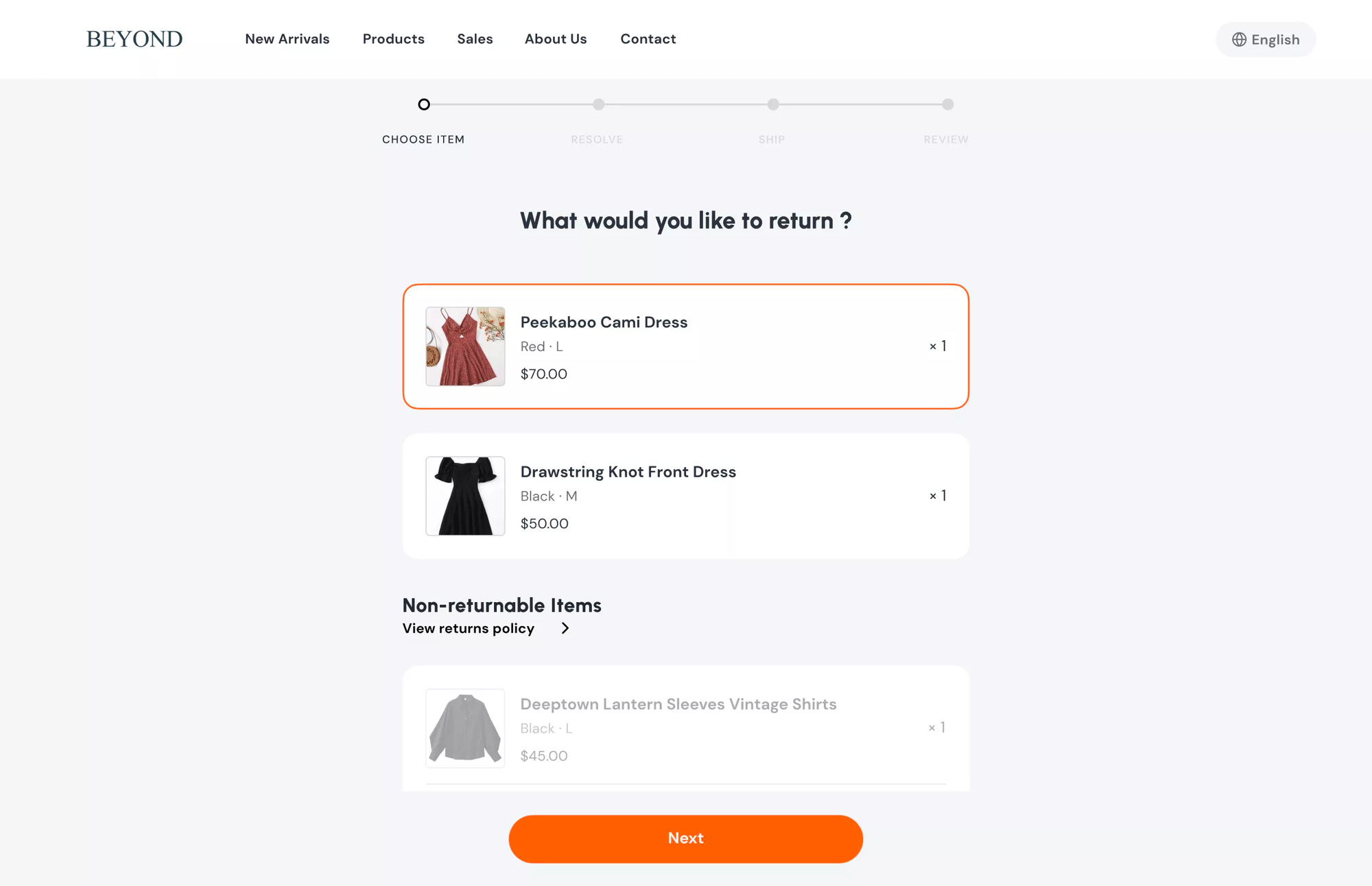 Some return management solutions provide space for marketing assets or additional visuals. These spots are another great opportunity to re-engage customers with new sale opportunities and call-to-actions to generate more revenue.
Best practice #2: Clearly state returns policies
Unclear or unstated return policies are often one of the customer's most frustrating parts of an order. In fact, 8 out of 10 consumers depend on the return policy before committing to a purchase. To avoid confusion, ensure your returns policy is detailed, transparent, and locatable, along with a return page link. Doing this presents an opportunity to set customer expectations even before a customer makes a purchase.
There are a few things you can do to set clear expectations around your returns policies:
Set clear non-returnables or partial return rules
Solutions like AfterShip can block non-returnable item returns or limit a refund to store credit. Customers can understand the return limitations of their purchase and prevents surprises. Common non-returnables include any items purchased on sale or discounted.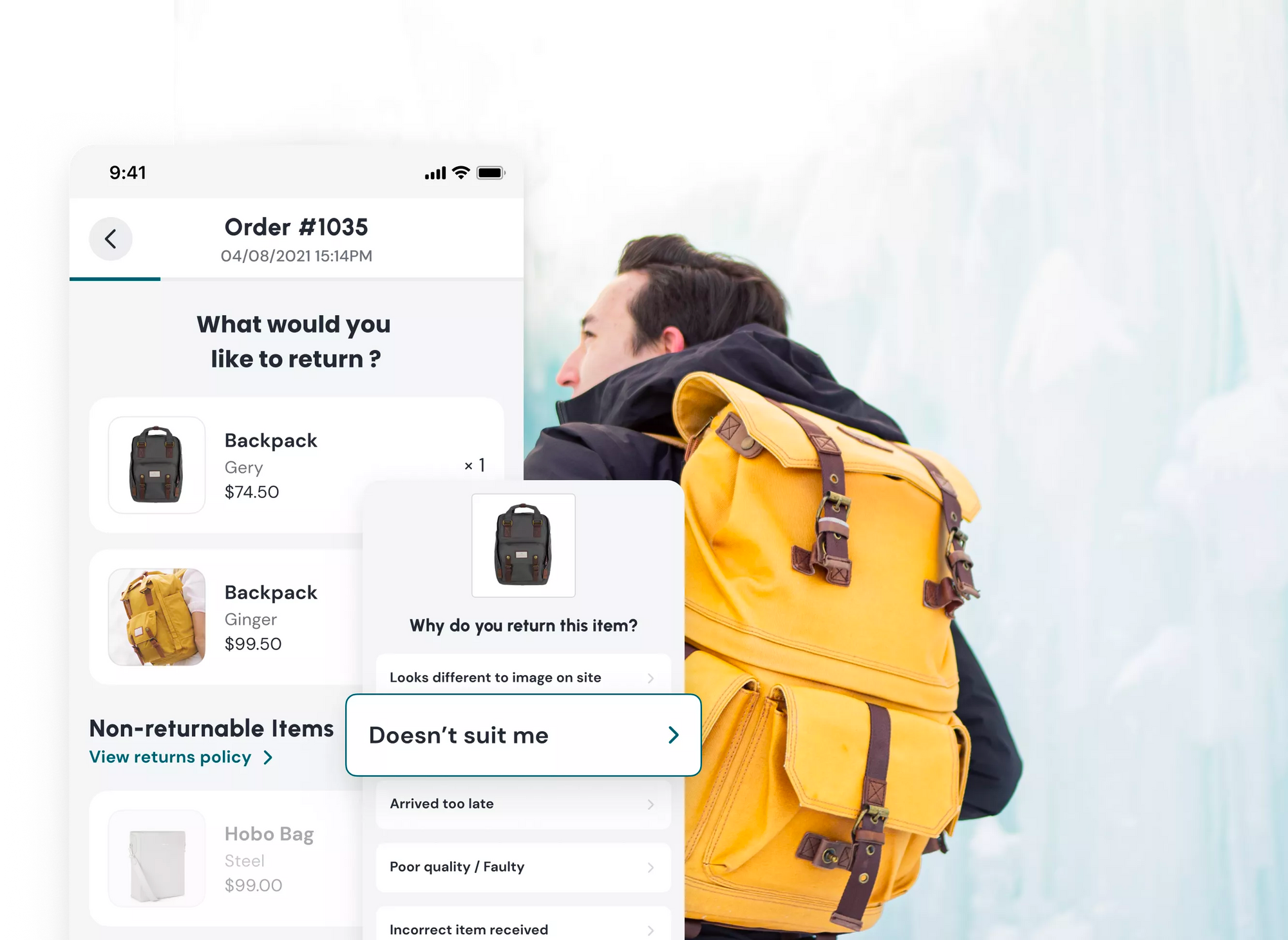 Include return policies on shipment tracking pages
Including return policies on shipment tracking pages helps customers understand the returns process even before their order is delivered. This can save them time and energy when starting the returns process, as they don't have to wait for a physical product to get started.
Reference the return policy if you block a return
In some cases, stores may need to block a return. In these scenarios, link your returns policy to explain what happened and offer alternative solutions. Customers won't need to jump between the return policy and the return page while reducing the need to contact customer service.
Best practice #3: Create new opportunities with your returns
Returns don't have to be just an exit point for customers—they can also be used to create more touchpoints and introduce them to other products in the catalog. Consider including marketing assets like coupons, discounts, or product recommendations on your return page that can help you convert a return into another sale.
Here are some tips to explore:
Offer options like exchanges and store credit
Refunds are costly and might deter customers from returning in the future. One way to encourage customers to repurchase is by offering exchange or store credit options. It's a great opportunity to re-engage customers with something they might prefer and helps recapture revenue for your business. Plus, product recommendations based on the returned items may add a touch of personalization and help customers discover other items.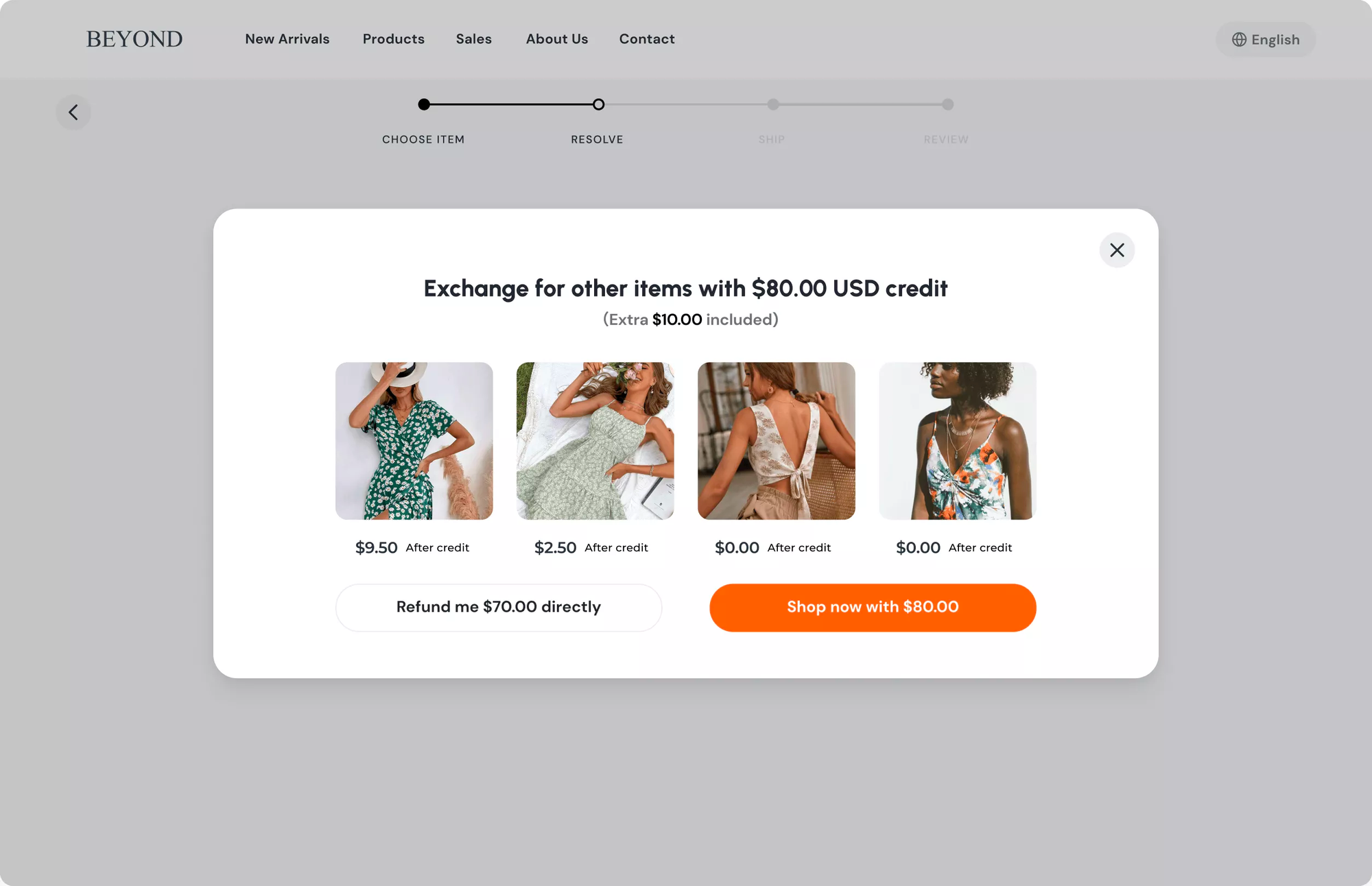 Explore alternative solutions to delight customers
By offering additional credits, free shipping, or discounts, customers are encouraged to return and try something new.
Getting creative here can improve the likelihood of a customer completing an exchange instead of a refund. In a study conducted by AfterShip, 60% of shoppers preferred to exchange items rather than get a refund. Successful brands leverage this to increase loyalty and create more touchpoints. For example, if a customer returns an expensive item, bonus credits might cover the cost of another item previously outside their budget.
Best practice #4: Don't forget about the offline experience
Creating offline experiences for returns can also help improve customer satisfaction. Far too often, retailers send customers off to post offices or a local collection point, leaving them with no help if there are any issues. And this can be a point of frustration.
Customers crave the most convenient return method, with some 30% stating it was one of the most important factors in a positive return. So making the offline customer experience seamless and reducing the work needed can have a big impact.
Here are some tips to get started:
Offer label-less or boxless drop-off methods
In-store returns or boxless drop-off methods provide customers with a convenient way to return items without worrying about labels and return packaging.  This type of experience offers hassle-free instant refunds, boosting customer satisfaction..
Encourage in-store exchanges for increased touchpoints
Encouraging customers to exchange items in-store can significantly improve customer interaction and create cross-selling opportunities. Additionally, your knowledgeable staff can provide personalized advice and product recommendations.
🚚
Welcome to AfterShip On Track
AfterShip On Track is a new blog series that provides eCommerce retailers and merchants with actionable tips to help them succeed. From industry insights to product advice, AfterShip On Track shares the latest news and trends in eCommerce.