5 Apps To Grow Product Reviews on Your Shopify Store
"A person's name is to him or her the sweetest and most important sound in any language."
This quote is from Dale Carnegie. He wrote it in 1936 in his classic book: How to Win Friends and Influence People. In one chapter, he emphasises that "the average person is more interested in their own name than in all the other names in the world put together." Using names is powerful.
Product Reviews to boost sales
If you want to sell more, you have to display names, therefore reviews of customers close to your products. The visitors who leave positive reviews will most likely come back, check their reviews just to have a look at their names (ego), and potentially buy again.
New visitors will see that Peter, Jack, Susan and Jenny bought from you already. So why not them? Remember, it's easier to jump into a crowded pool than into an empty one.
Product reviews, and when you have lots of them, drive sales.
Product Reviews to improve SEO ranking
They also drive traffic. When your customers leave product reviews, they also generate extra content on your page. This extra content will be indexed by search engines and your SEO ranking will improve.
It is also a tool for you because the language your customers use when they leave a review is similar to the language potential new users type on Google. Product reviews might be a good chance to improve your ranking for long tail searches.
Convinced? If you're starting your shop on Shopify, or if you simply forgot to implement a review system, you should consider trying one of these five apps available on [Shopify app store](https://apps.shopify.com/" target"_blank").
Regarding Reviews apps on Shopify, there's one giant, and four contenders:
5 Shopify Review Apps to Consider (in no particular order of preference)

#####Yotpo It is one of the most popular app on Shopify. It's easy to use, their onboarding process is best-in-class. Yotpo is "one of the fastest rising Israeli SaaS (software as a service) platforms in recent memory" according to [Geektime](http://www.geektime.com/2015/06/23/social-review-generating-platform-yotpo-raises-15-million/" target"=_blank).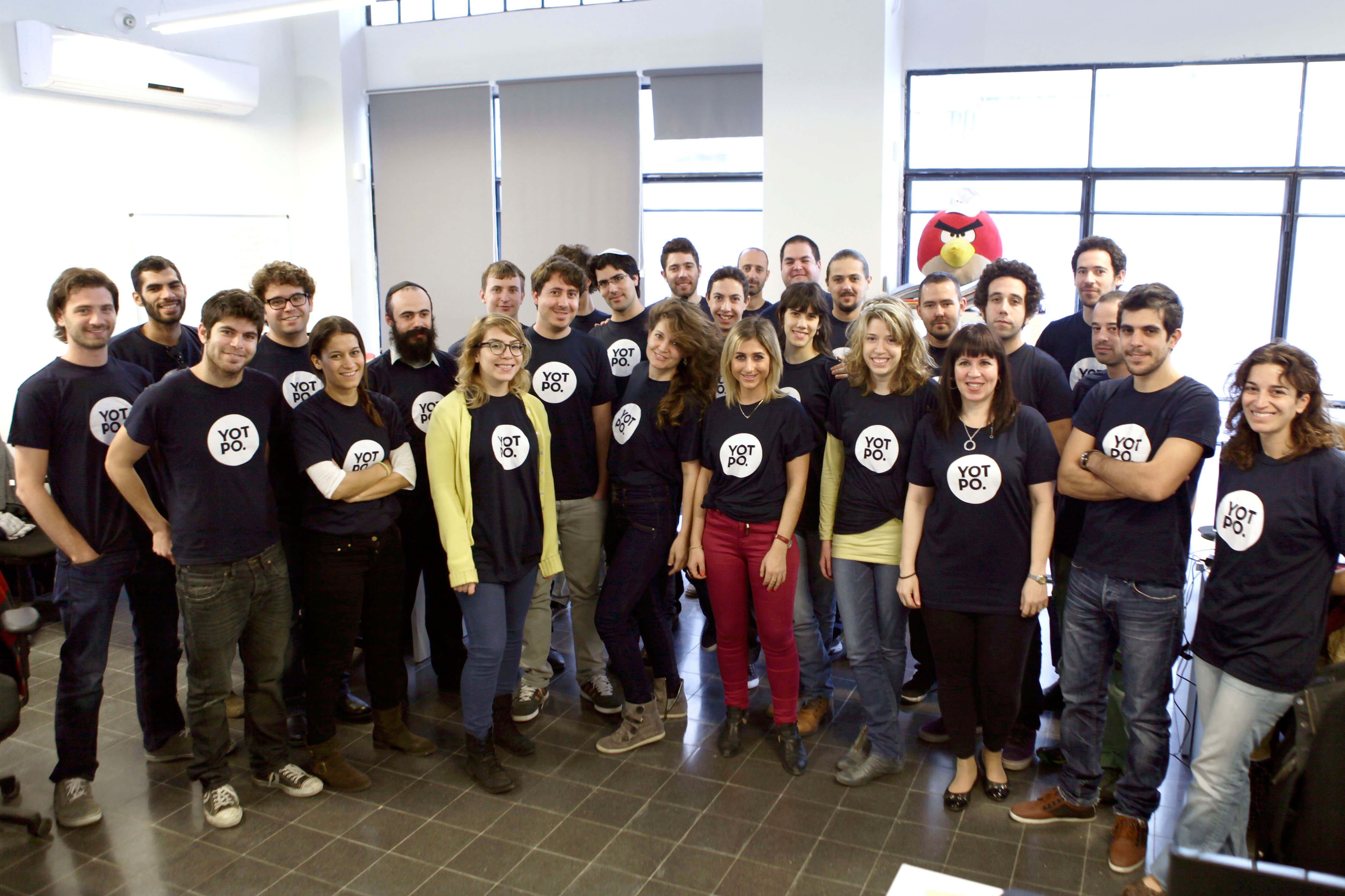 [Download app](https://apps.shopify.com/yotpo-social-reviews" target="_blank) - Free but additional revenue generating features are available at additional cost.
Loox
Loox focuses on fashion stores, but you can use it even though you're not selling clothes. When you read the last comments and see "Love that app!", "Love this app", "the Loox team is amazing", it usually gives you a hint about the quality of the app and the team behind.
Loox is different because it "gives you the power to show visitors how your products look in real life, and build the confidence they need to buy an item they didn't touch and try." With the power of pictures.
You can grab Loox for free, forever if you install it before June 30th. They launched as well a beta site - [loox.io](http://loox.io" target="_blank) - where you can feature your reviews. Smart.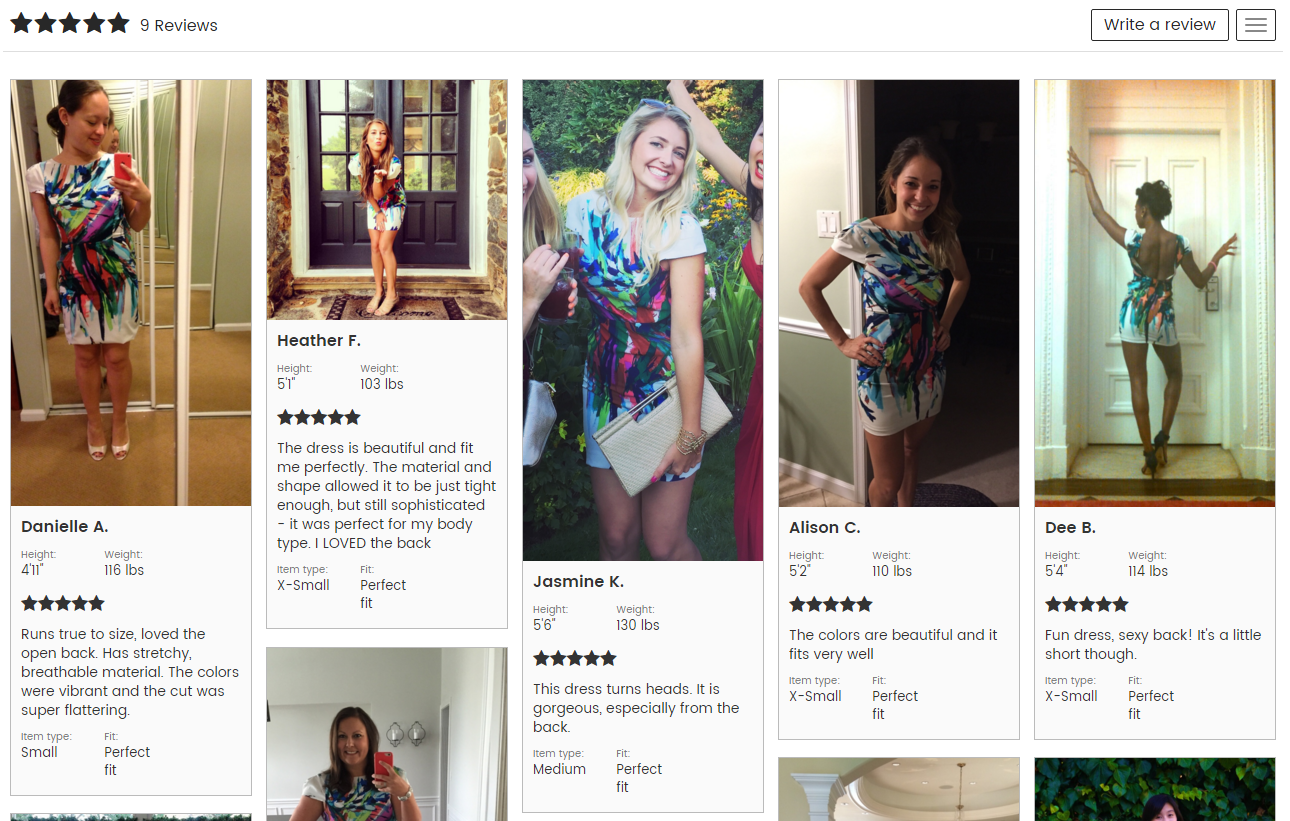 [Download app](https://apps.shopify.com/loox-fashion-reviews" target="_blank) - Free
Kudobuzz
Customer support, we heard, is top-notch. Kudobozz focuses on social reviews. Which makes sense if you want your product to shine on Facebook, Instagram or Twitter. They make it super easy to start using it, with just one line of Javascript to add to the html of your website. 5,000+ businesses already use Kudobuzz to collect reviews, boost sales and improve SEO ranking.
Kudobuzz is great if you want to add review widgets on your website. Whether it's a simple one displayed at the bottom of your store with reviews from verified buyers, or a full-page review, Kudobuzz has everything to please you.

[Download app](https://apps.shopify.com/kudobuzz-testimonials" target="_blank) - Free to begin with, then $10, $20 or $40 / month depending on your usage.
Storesmiths
Storesmiths is still in beta, but the potential is already here. Powerful user-defined rules can make a huge difference in the end to grow the number of reviews for your store. Depending on how your customers behave and order, you can send them specific requests for them to leave reviews. The key here is the timing and the context for when to ask for reviews.
On top of that, reviews widget are easily customisable to match your theme and feel native. Since it's free and still in beta, Storesmiths might be a great option to begin with reviews and show your support to app developers launching their app!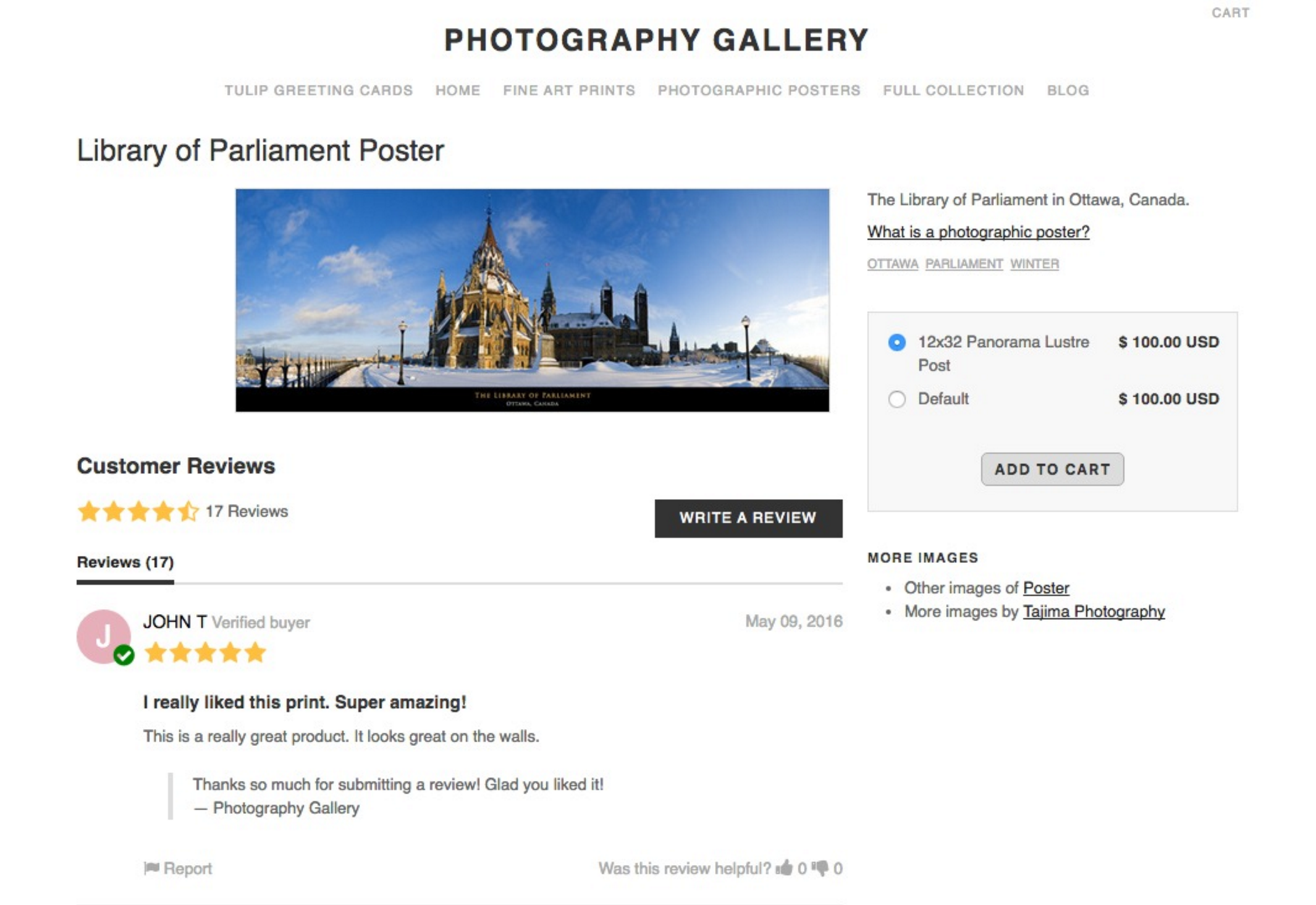 [Download app](https://apps.shopify.com/storesmiths-product-reviews" target="_blank) / Free and in beta
Judge.me
Judge.me is a Shopify only app so you're sure to get their full attention for support. They have a free plan and an awesome plan for just $15 / month. Just have a look at their "Change log" in their app listing, you'll see how much work they put in improving their app.
Judge.me has everything you'd expect from a top-quality review app. It takes care of everything once you set it up. Rich widgets that match your Shopify theme, the ability to import / export your reviews into Judge.me, you can also display your reviews into any language!
They are as well launching a search tool to help anyone find the best Shopify products using their reviews data. That's another reason to try Judge.me!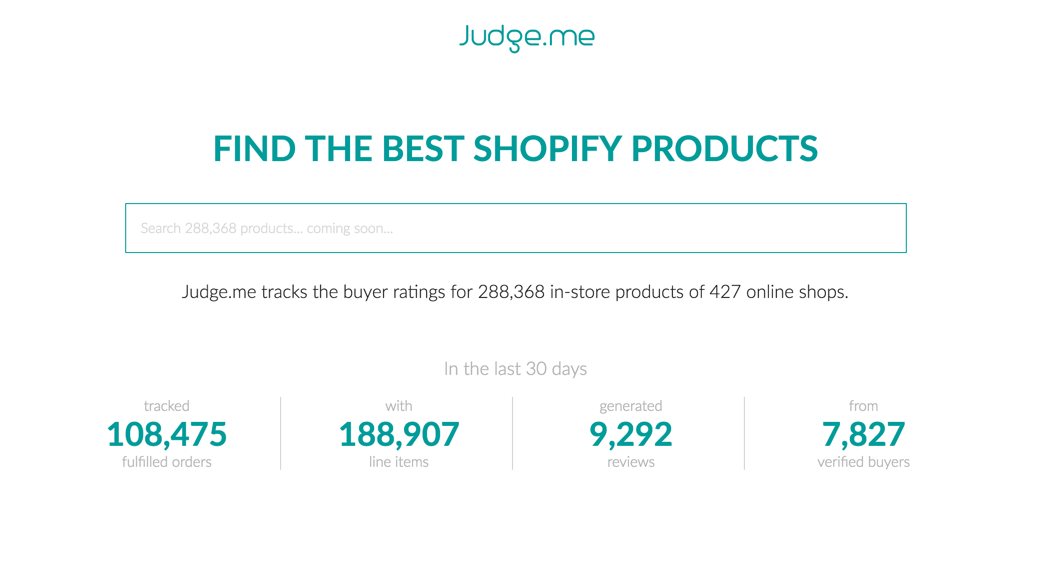 [Download app](https://apps.shopify.com/judgeme" target="_blank) - Free or $15 / month for awesome plan
Conclusion
Product reviews can make or break a business. At AfterShip we treat them carefully. They are the pulse of what our users think and it means a lot to our developers.
They show to potential new users that our app works well, is easy to install and delivers on what they expect. When you have more than 800 positive reviews, it helps a lot to get new installs. It's like a virtuous cycle.
Using AfterShip on Shopify and haven't left a review yet? Head over to the Shopify App Store and [write one!](https://apps.shopify.com/aftership" target="_blank)