Sustainability can drive brand loyalty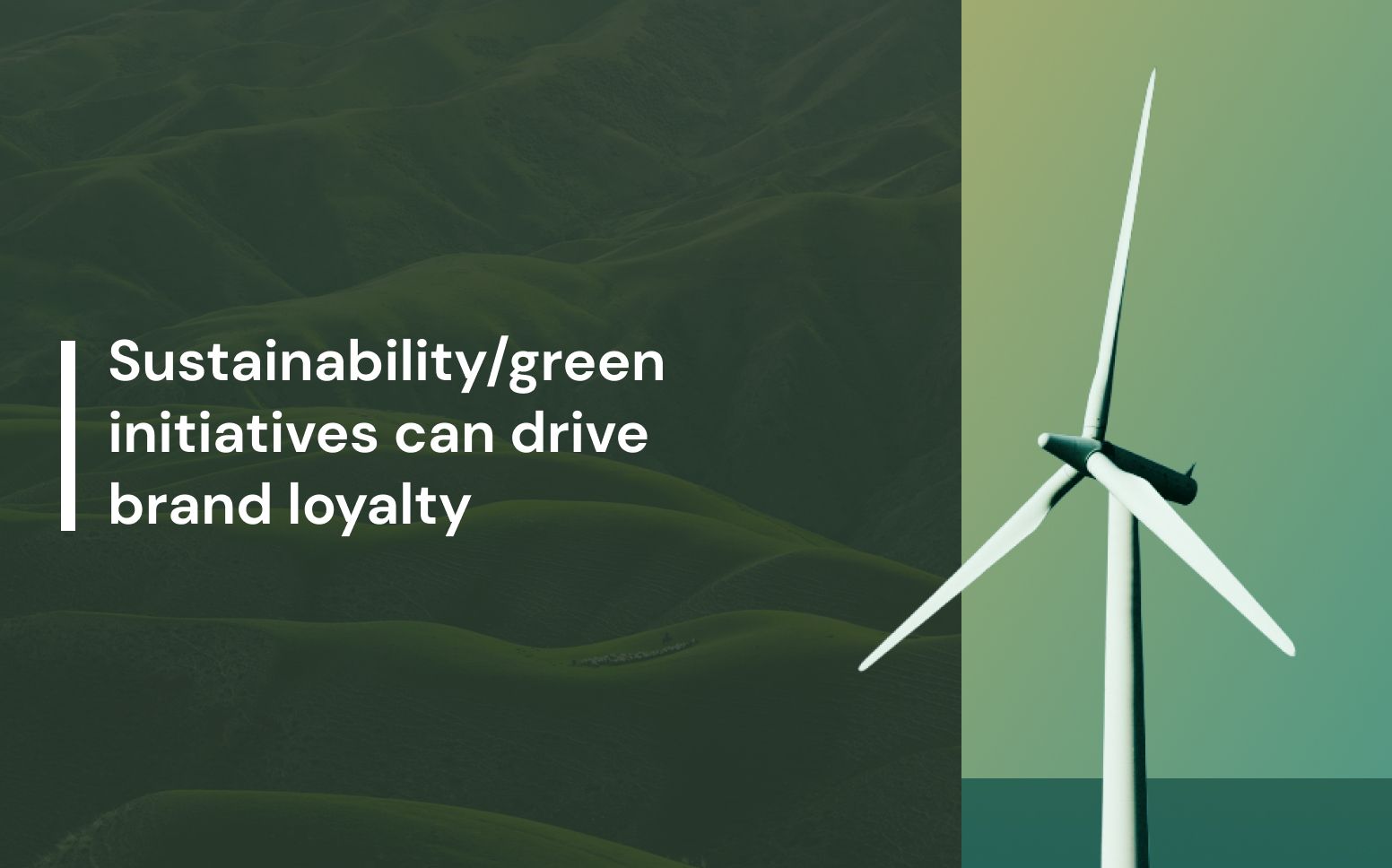 You've been working hard to make your eCommerce business a success. It takes a lot of time, energy, and dedication to get things off the ground, and you're finally starting to see some traction with online retail. But as your business grows, it's important to keep an eye on the wider impact of your success. Today, we're talking sustainability.
Having a small environmental footprint is important, not only for the world itself but for your bottom line, as customers continue to demand more green initiatives in return for their loyalty.
We know it can be confusing trying to navigate the world of sustainability and eCommerce. There are a lot of terms being thrown around, and it can be difficult to know where to start. But don't worry, we're here to help!
How does sustainability drive brand loyalty for retailers?
Sustainability is the ability to exist continuously. In other words, it's about meeting our current needs without compromising the ability of future generations to meet their own needs. It's a hot topic right now because our planet is facing some big challenges, and one that retailers should be mindful of.
That's why consumers are becoming more aware of the brands they support and are looking for companies that share their values.
Customers are aligning their shopping decisions with their values
When it comes to environmentalism, consumer awareness is up—more than 80% of consumers today consider sustainability to be a more pressing issue than it was before COVID-19. We saw that 75% of shoppers are willing to pay more in retail for products and services from companies that are committed to positive social and environmental impact.
What does this mean for you? It means that your customers want to know that you care about the same things they do. They want to feel good about the products they're buying, and they want to know that their purchase is making a positive impact.
You can tell your customers that you care about sustainability by the way you run your business. Do you use recycled materials? Do you use green shipping methods? Do you offset your carbon emissions? These are all things that customers will take into consideration when deciding whether or not to do business with you.
Sustainability is good for retail business
Studies have found that a company's values and purpose significantly influence purchasing decisions. When price and quality are equal, nearly 70% of consumers say they would buy from a purpose-driven firm rather than one without a cause. And 78% of consumers are more likely to remember a company with a strong purpose.
What does this mean for you? It means that sustainability is good for business. By taking steps to reduce your environmental impact, you're not only doing your part to protect the planet, but you're also differentiating yourself from your competition and making your brand more memorable.
Moreover, by being transparent about your sustainability efforts, you're building trust with your customers. They'll know that you're a company they can feel good about doing business with. In fact, 65% of shoppers agree that brands should measure their carbon footprint and have a specific plan to reach carbon neutrality.
Sustainability is no longer a nice-to-have in retail, it's a necessity.
The SEC has proposed a landmark climate disclosure rule that will require public companies to report on emissions, among other things. The rule is a response to the growing investor interest in sustainability.
Sustainability is no longer a desirable addition, it's an obligation for retailers. A company's environmental impact could soon become something that is regulated and disclosed to shareholders.
Luckily, there are a lot of easy ways to make your business more sustainable. We'll cover some of them in future posts. In the meantime, we encourage you to check out our free e-book on sustainability in eCommerce.
How can I reduce my carbon footprint?
There are a few simple steps that you can take to reduce your carbon footprint for your online retail business. Here are some quick tips.
Do the basics of sustainability
There are a lot of things you can do to make your company more sustainable. But sometimes, the simplest things can make the biggest difference. Here are a few things you can do to get started:
Use recycled materials
Switch to green shipping methods
Use recycled packaging
Reduce your carbon footprint
Educate your team and customers about sustainability
Commit to sustainability
Transitioning a company to be more sustainable is a difficult thing to do. Not only is it a mentality shift that needs buy-in across the company, but it can be a financial investment as well. And after all is said and done, some consumers might feel like you're not doing enough.
But despite all of these challenges, it's important to remember that sustainability is a journey, not a destination. Every company has to start somewhere, and the most important thing is to take the first step and commit to the long run. With consistency in messaging and actions, your customers will take notice and appreciate your efforts.
Create tangible sustainability targets in the short and mid-term
It can be difficult to know where to start when trying to make your company more sustainable. A great way to get started is by setting sustainability targets in the short and mid-term. This will help you focus your efforts and track your progress.
Not sure what kind of targets to set? Here are a few ideas:
Reduce carbon emissions by X% in the next year
Use recycled materials for X% of products in the next year
Switch to green shipping methods for X% of orders in the next year
One great example of an apparel brand doing great things with this type of effort is Pura Vida — they support local artisans with a sustainability mission.
These are just a few examples, but the important thing is to pick targets that are realistic and achievable. Whatever direction you decided to go, once you've set your targets, be sure to communicate them to your team and customers.
Be transparent about your efforts
It's one thing to make your company more sustainable, but it's another thing to communicate your efforts to your customers. Being transparent about what you're doing and why you're doing it is key to building trust with your audience.
This could involve anything from sharing your sustainability report to writing blog posts about the steps you're taking to reduce your impact. No matter what you do, make sure you're clear and consistent in your messaging.
Find ways to offset your carbon emissions
Carbon offsetting involves calculating the amount of carbon emissions generated by a particular activity (such as shipping a package) and then purchasing an instrument that pays for avoiding or sequestering the same amount of carbon elsewhere in the environment.
And the first step in offsetting carbon emissions is to get a clear picture of the environmental impact that your company is actually making.
That's where AfterShip's Carbon Emission Report comes in.
What is AfterShip's Carbon Emission Report?
AfterShip is committed to helping you reach your sustainability goals through the sheer power of our shipment tracking and analytics. Our AfterShip geek squad has developed a unique algorithm to generate a carbon emissions report that is specific to you, so you can discover methods to reduce your carbon impact.
Whether you are just starting out on your sustainability journey or are looking for ways to further offset your emissions, we've got you covered.
Looking to offset your carbon footprint? Learn more about AfterShip's Carbon Emission Report here.