How iHerb builds trust with international shoppers - shipping experience review on iHerb

Run an online store and ship domestically only to US, Canada or UK? Think twice after reading the following graph. While US and Canada are expected to see a strong growth of 14% and 16% annually, China, India and Mexico are enjoying a much ~faster~ crazier annual growth at 57%, 44% and 21% respectively according to Statista. Are you ready for shipping internationally?
In this article, I will share with you the shipping experience at iHerb - a top healthy products B2C online store that ships internationally - from the view of a customer based in both US and China. I will also talk about the subtle details that iHerb makes to deliver an amazing shipping experience for international shoppers.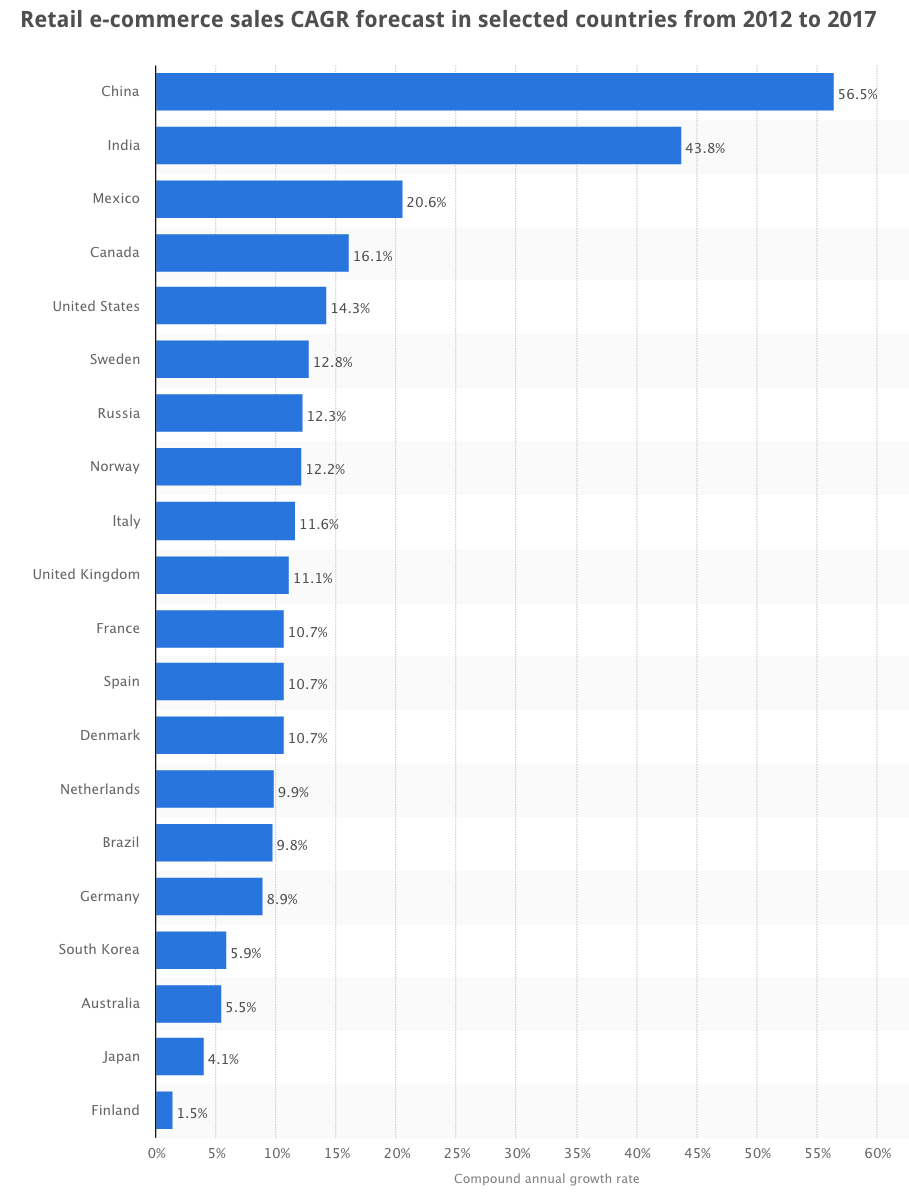 Why iHerb?
Organic, vitamins, gluten free, weight loss - if you are sensitive to the above wordings, then iHerb is perfect for you. iHerb, based in US and founded in 1996 by Ray Faraee, offers over 35,000 products of top-rated healthy products, like supplements, herbs, bath & beauty, skin care, or even pets products. What's great is that iHerb partnered with global and domestic carriers to provide economical shipping solutions for international customers. Their key targeted countries are: United States, Australia, Brazil, Canada, China, Finland, Great Britain, Hong Kong, India, Ireland, Japan, Korea, Netherlands, New Zealand, Norway, Russia, Singapore, Saudi Arabia, Sweden, Switzerland, Taiwan, Ukraine.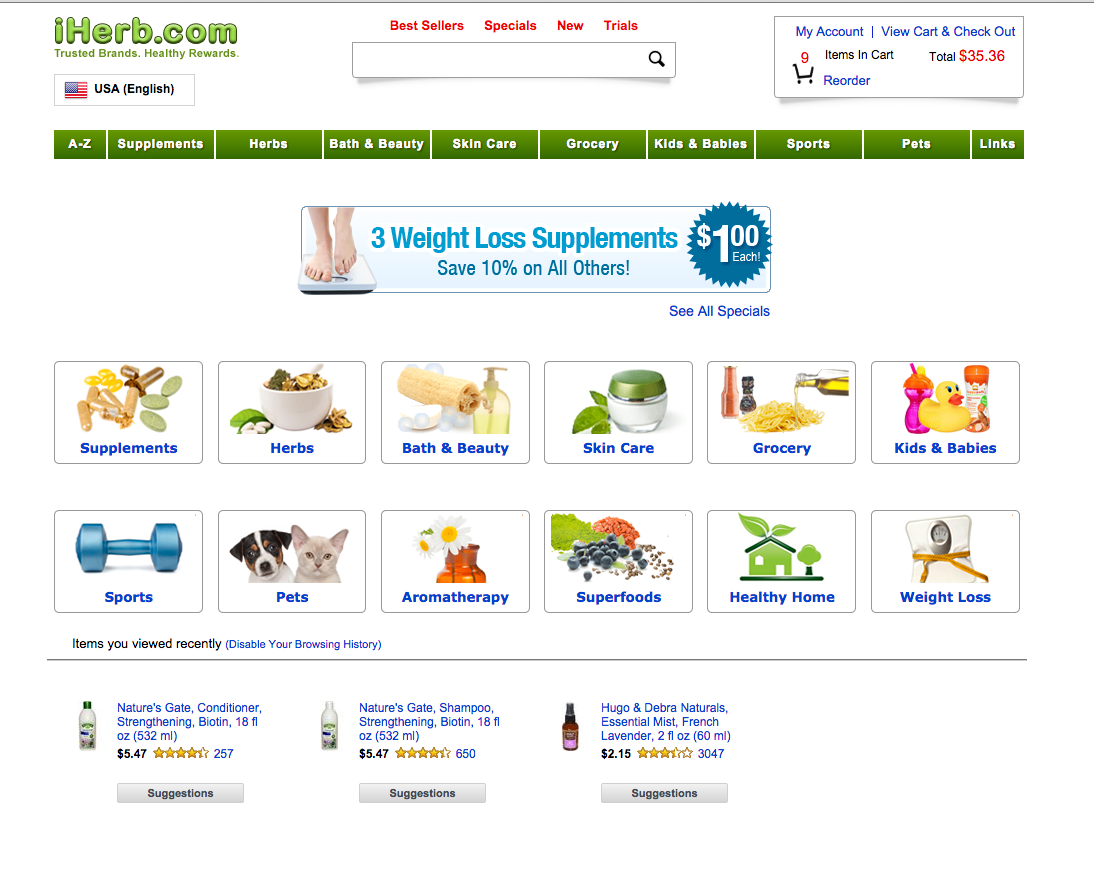 1. Showing Shipping Fees Before Checkout
UPS 2013 report suggests around 53% of shoppers will abandon a cart if the Shipping costs made the total purchase cost more than expected. iHerb is trying their best to minimise the risk of last minute withdrawal by offering total shipping fee when you view the cart before checkout. Weight info is critical when it comes to international shipping, especially for iHerb that ships heavy products like Shampoo. iHerb keeps mentioning the weight info from the product page and the viewing cart page, not only because it is key for international customers to calculate the correct shipping fee, but it also reminds customers about the weight limitation for each shipping method.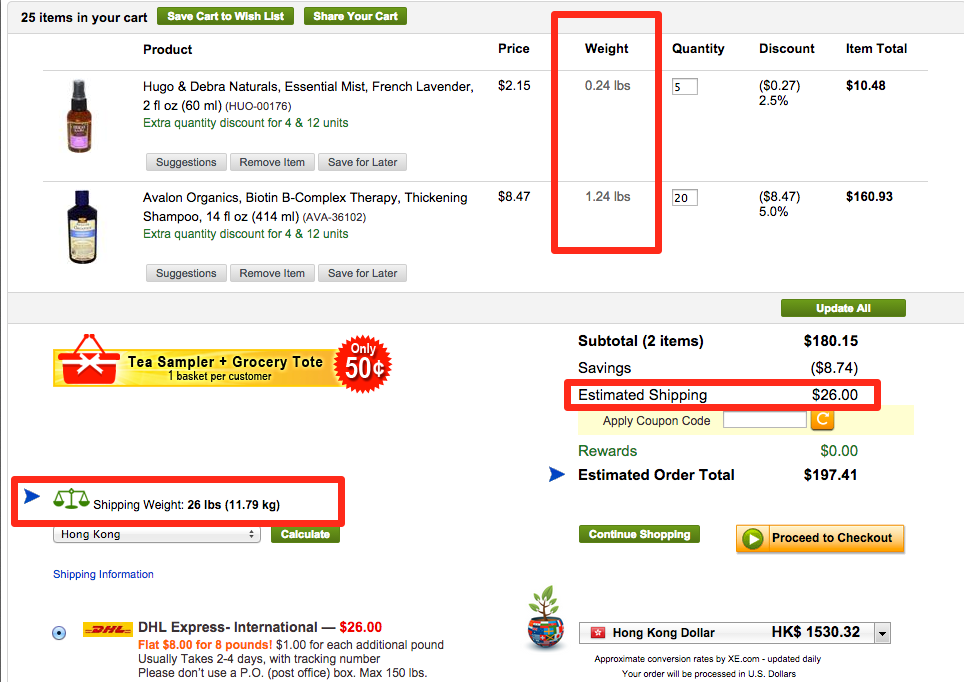 2. Multiple Shipping Options
Free Shipping for domestic and selected countries
Free shipping has already become a norm because it creates a win-win situation for buyers to save on shipping fee and for stores to generate a higher order size per order. iHerb offers free shipping in USA and some selected countries.
| Country | Min. Order | Delivery time | Weight Limit | Shipping method |
| --- | --- | --- | --- | --- |
| USA | US$20 | 1-5 days | 150 lbs | Fedex Smartpost |
| USA | US$40-60 | 2 Days | 150 lbs | UPS |
| China | US$40-$60 | 10-15 days | 7 lbs | Sino or UCS |
| Japan | US$60 | 3-5 Days | 30 lbs | Sagawa Mail |
| Korea | US$60 | 4-7 Days | 15 lbs | Direct Korean Postal |
| Singapore | US$60 | 4-8 Days | 14 lbs | SingPost |
Discounted Shipping for Other Countries
iHerb offers discounted DHL, UPS or USPS shipping options for shoppers outside US, China, Japan, Korea and Singapore. The most popular option is DHL Express which is a flat US$8 for 8 pounds and then $1.00 for each additional pound, taking 2-4 days with tracking ability. Interesting point is that they only provide USPS shipping to Brazil, i.e. no options for DHL or UPS.
Clear expected delivery time and tracking ability
iHerb does a great job on setting up customers' expectation by providing an estimated delivery time. International shipping may take 2-4 days for express service or even 4 weeks for postal service - although iHerb does not mention exactly which date the shipment will be delivered (like Amazon), it give an estimated time range for each option at the cart viewing page.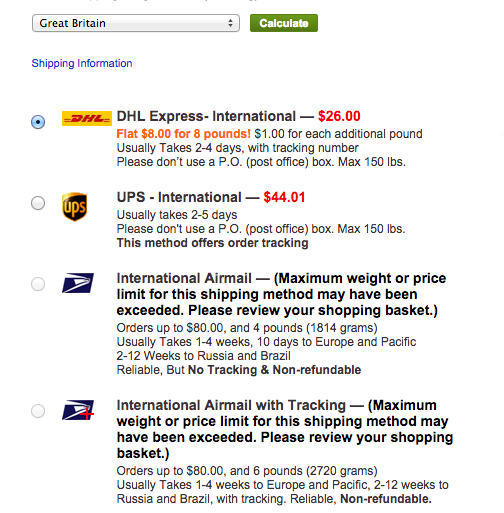 3. Clear Customs Info
Worth mentioning is how iHerb handle the custom for international shipping. If you are planning to ship worldwide, I highly recommend you to check out how iHerb inform customers on customs clearance. iHerb does not provide DDP (Delivery Duty Paid), requiring customers to pay for the unpaid duty fee if it generates at the customs.
For China, iHerb use Sino and UCS China-EMS which will handle the customs clearance and delivery service in China. Once purchased on online at iHerb, Sino or UCS China-EMS will send over an email asking customers to upload an ID card copy. iHerb will then get notified and ship out the orders to China. If there are any costs generated via customs (which takes 1-3 days), Sino or UCS China-EMS will email users to pay online (via Alipay - the China PayPal). Upon the duty has been paid, Sino or UCS China-EMS will then send out shipments using China EMS to customers and inform customers with a tracking number.
For Russia, iHerb uses a service called BoxBerry, which allows customers to choose either pick up at their branches or direct delivery to an address. Do note that customers in Russia are required provide passport when placing the order. iHerb reminds customers of the restricted items due to Russia's local customs, and iHerb will not refund if customers order restricted items and got hold by customs.
"Orders going through International Airmail are scrutinized less by customs in your country and subject to less custom duties, but have no tracking information, and take longer for delivery/." - iHerb
4. Basic Tracking Info
Similar to many retailers, iHerb provides basic tracking information which they will send customers a delivery notification with the tracking number and a tracking link to carrier website upon fulfilment. Customers can login to order history page to view the same.

UPS 2013 Study pointed out that one of the most important tracking-related services for shoppers is the ability to track directly on the retailer's site and proactive follow up notifications. Instead of redirecting consumers to carrier websites, we recommend iHerb should provide end-to-end tracking at the order history page, and proactively notify customers when the tracking information is online (i.e. actually picked up) or even shipment is delivered. My guess is that many iHerb customers receive tracking numbers with no info because iHerb sends the tracking numbers too early even shipments are not yet picked up.
5. Fair Returns Policy
First thing - there is no FREE return for iHerb, and their warehouse is in California USA. It is particularly tricky for international customers to return especially what iHerb sells is relatively heavy, meaning your returned shipping fee could be higher than the product value. It comes to frustration when customers are surprised by the customs fee, and then refuse to accept the order - in this case, iHerb can refund BUT will deduct the shipping cost and 20% of the order value.
iHerb's return policy
Unopened products for less than 60 days can be returned
If your order is returned to us due to a banned/restricted products policy, a wrong address, refusal to pay customs fees, refusal to accept the order or because no one was there to accept delivery of your order, we will refund your credit card as follows: You will be refunded the total amount of the order, minus the shipping charge, and 20% of the value of the order, (as a re-stocking fee). We will also subtract any other outside charges iHerb.com has incurred during shipping, such as warehousing fees, return postage fees, etc.
If the cost to return the product to us is larger than the cost of the refund due, we will instruct the carrier to abandon the order and there will be no credit for the order. If the product(s) is seized by customs, there will be no credit processed for the product(s).
Check out iHerb warehouse
What's your take on international shipping?
Do you have any interesting shipping experience from iHerb? Drop us a line below and we'd to hear your story.