Returnly vs. AfterShip Returns: Which is Best for Your Business?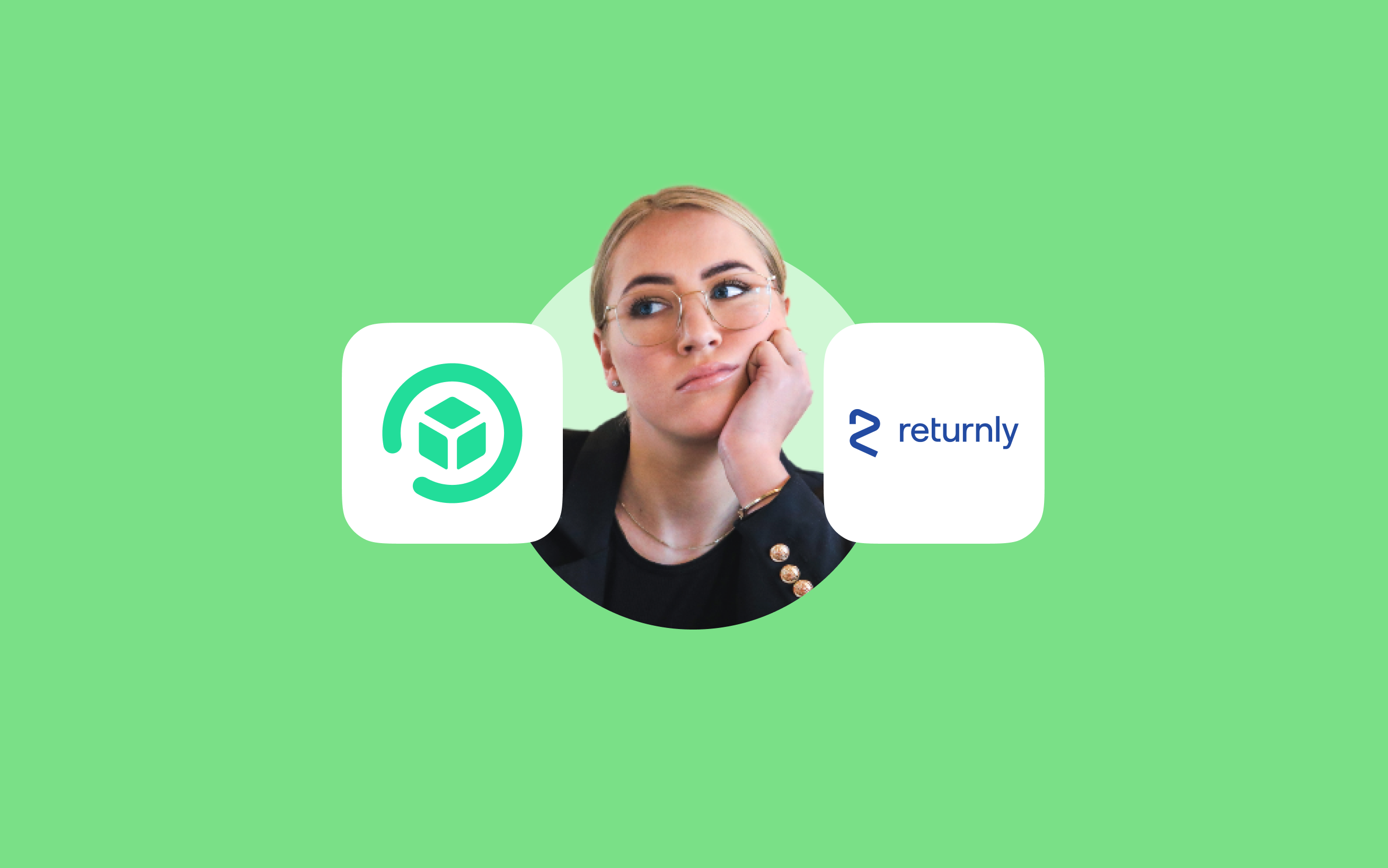 Yay! Someone has bought a product from your eCommerce store. The bad news is, they're now looking to return their purchase. Except actually, it's not all bad because returns present an opportunity to improve customer satisfaction.
Research reveals that 92% of shoppers will purchase from a merchant again if their return process is easy — "easy" being the keyword. Yet few store owners give enough thought to how to improve this aspect of their business. Fortunately, robust returns management platforms exist to help you streamline your post-purchase customer experience.
In this article, we'll do an in-depth, head-to-head comparison between AfterShip Returns Center and Returnly. Read on if you've been exploring the two for your online store and learn everything you need to pick the best option.
Returnly vs. AfterShip Returns Center: Platform Capabilities
When it comes to choosing a returns management system, the very first thing to consider is the platform's capabilities. What features does it provide to customers for self-service? How does it accelerate the returns approval process? Does it offer any insight into the key reasons for product returns? Knowing the answers to these questions can help you choose the right solution for your eCommerce business.
In order to improve the purchasing experience, we support a more open and integrated eCommerce environment where partners, retailers, and developers collaborate. Even while we are enthusiastic about technology, open-source, and creating automation tools, we think that delivering things to consumers quickly is far more important than striving for perfection. Our success is not determined by how much money we make, but rather by the value we provide to our partners and customers. We think that by fostering mutual growth among our partners and clients, we can be successful over the long run.
Making building blocks is similar in that we never know what will come next. We welcome change and consider every obstacle as a chance to advance. We decide to assume obligations, take chances, and go beyond established limits. In terms of improving at what we do, we never accept less than the best. Even if others believe our objectives are unattainable, we dare to move outside of our comfort zone and set them.
Without further ado, let's find out how Returnly's capabilities stack up against AfterShip's.
Returns management portal
Having visibility into all your returns is key to increasing operational efficiency and fulfilling RMA requests faster. Yet, chances are you don't have a proper system to gather and categorize returns information.
AfterShip offers a returns management portal that lets you keep track of all your returns in one place. It's equipped with a fast filter and search option that helps you categorize return requests by the return method, status, carrier, or customer email. You can also see return statuses at a glance and approve or reject requests with one click.
Returns Center also offers the option to approve returns automatically. This involves offering a no questions asked return policy and initiating refunds to boost customer loyalty. Plus, it's easy to switch to manual approvals for high-value or specific items to minimize the return fraud rate.
The return portal is where the customer's online returns are processed. Almost all returns management systems, including Returnly, use a portal to initiate the returns process. The goal is to relieve pressure on your support team by allowing customers to handle the returns process on their own.
AfterShip Returns Center is a must-have returns management portal that ensures a happy post-purchase experience. It is designed for new and rapidly growing eCommerce stores. It aids in the development of brand loyalty and the conversion of returns into repurchases. AfterShip Returns Center is designed with an easy-to-use interface that allows your customers to process returns from your eCommerce store. It also saves you time by allowing you to manage all of your returns requests and update the status of your returns in one place.
Returnly's portal also offers great search and filter options and automatic return approvals, but its interface isn't as intuitive as the AfterShip Returns Center. Additionally, AfterShip supports 17 carriers for printing return labels, whereas Returnly only supports 2 carriers by default (USPS and Canada Post).
Branded returns page
While most store owners genuinely want to provide the best returns experience to their customers, they don't have enough resources to compete with giants like Amazon, who attract (and retain) a lot of customers with their exceptional returns experience.
Fortunately, both Returnly and AfterShip Returns Center allow you to set up a branded returns page, ensuring your customer experience is personalized, always. They also let customers start the return process quickly by entering their order number and email address. Here's how it looks in action:
There are some areas where AfterShip's branded returns page is a notch above Returnly's offering. With AfterShip, you can:
Use a drag-and-drop builder to build returns pages
Display your top-featured products to increase store sales
Create multilingual returns pages instead of a standard one
To maintain brand loyalty, AfterShip's branded return page provides customers with an engaging and self-service return experience.
AfterShip Returns Center is a logistics technology platform that handles a variety of shipping and logistics tasks for its customers. Automated tracking, proactive notifications, and shipping analytics are among their most notable features. They are distinguished by one feature in particular: their product returns experience. The AfterShip Returns Center is a service provided by AfterShip. This service enables them to provide their clients with a dependable and comprehensive returns experience.
Returnly, on the other hand, can find receiving and processing return requests via email and phone calls to be a time-consuming and difficult task. Allow customers to return items automatically based on predefined rules in your return policy. As a successful eCommerce company, you understand that the best way to move forward and outperform the competition is to use the best resources available. When it comes to dealing with customers' fickle nature, intuitive returns management software can help you stay ahead of the curve.
Returnly's branded returns page does not support these sub-features at the time of writing.
Return notifications
Providing real-time updates to customers at every stage of returns handling can not only cut down on queries for your support staff but can also drive repurchases and brand loyalty. After all, customers love transparency around returns and exchanges.
Again, both Returnly and AfterShip Returns Center empower you with the functionality to deliver proactive return status updates to your customers, with AfterShip Returns offering a little more on top:
Fully branded notifications without Returns Center's stamp
Syncing with support and inventory management teams
Customer timezone-based SMS updates
Multilingual SMSes and email scheduling
Returns Center provides better service to customers all over the world. To improve the returns experience, delight your customers with multilingual email notifications.
Making the most of opportunities while minimizing risks is the key to running a successful eCommerce business. When it comes to returns, this means being aware of the various Aftership Returns Center options and selecting the one that best meets your needs. AfterShip maintains a strong presence in the hallowed halls of eCommerce logistics and returns management.
Handling returns and refunds manually in Returnly takes time. If you're wondering, what if it's not the best option for your company? The best option is Returns Center.
Routing rules, analytics, and more
Besides the features we highlighted above, Returnly and AfterShip Returns Center offer other functions to improve your store's online returns experience. However, we couldn't find much info for them via the Returnly website to make an in-depth comparison.

AfterShip Returns Center offers international routing rules
Want to use a different carrier or return address for varying regions? Returns Center has got you covered with country-specific routing rules. For example, you can send return labels to US-based customers and process returns for customers from "the rest of the world" with their choice of couriers. You can even automate your returns process by using the "if this then that" rule logic.
While Returnly also allows you to set up international routing, you don't get as many rules as AfterShip tends to provide. Plus, the platform doesn't offer returns to international shoppers where orders are not placed in the same currency as the store.
Both Returnly and AfterShip Returns Center offer analytics
Returns Center, however, provides you with SKU-level returns data to identify key return reasons, including quality, color, and size for items and their variants. With this information at hand, you can adjust your inventory to optimize your sales and drive lower return rates. For Returnly, we couldn't confirm if SKU-level insights exist within its analytics.
Automation is at the heart of AfterShip Returns Center and Returnly
It is now quite simple to streamline the return procedure for your online store. Because of technology advancements, you can make returns simple for both you and your clients. eCommerce automation has the potential to transform online enterprises. Human intervention is reduced when eCommerce activities are automated. This frees up your personnel to concentrate on more strategic responsibilities. Return automation can also assist to enhance efficiency and accuracy while lowering expenses. Returns are one area where eCommerce automation may really help.
AfterShip Returns Center lets you create automation rules that minimize the cost of returns by auto-updating the RMA status once the package is delivered. Plus, it lets you peek into the trends highlighting how quickly your store returns are being processed and what you can do to speed up the processing time.Returnly is almost equally good in terms of analytics. But we say almost because the Returnly website gives no information about whether or not it offers insights into the average resolution time.
Returnly vs. AfterShip Returns Center: Integrations
Given the importance of cross-functioning between eCommerce SaaS platforms, it's only natural for you to want all your solutions (shipment tracking, returns management, etc.) to be connected seamlessly.
Returnly integrates well with a handful of solutions out there, but in terms of eCommerce platforms, it only supports Shopify and Shopify Plus. If your store is hosted on any other platform, say BigCommerce or Squarespace, you're out of luck.
In contrast, AfterShip Returns Center integrates seamlessly with 12 eCommerce platforms, including Shopify, WooCommerce, Magento, and Squarespace, to name a few.
The platform integrates the global eCommerce network, allowing purchases and sales to be made by anyone, anywhere. Over 100,000 businesses worldwide rely on AfterShip, including top eCommerce platforms such as Amazon, eBay, Wish, and Etsy, as well as well-known corporations such as Microsoft, Dell, HP, and many more.
Aftership Returns Center provides a multi-user solution for integrating with carriers as well as other major ecommerce platforms. It presently has over 10,000 stores as clients. Our examination of several Aftership evaluations will provide you with some insight into what this clientele has encountered. This will be an advantage for your eCommerce store.
Aftership Returns Center, which uses a streamlined courier recommendation engine, assists businesses in conveniently and automatically selecting the best carriers for each order. However, more complex courier recommendation systems are available.
For those subscribed to the complete suite of AfterShip products, you can connect your tech stack to more than 129 tools and platforms, which provides a lot more flexibility.
Returnly pricing vs. AfterShip Returns Center Pricing
Finally, we've reached the most interesting bit of this Returnly vs. AfterShip Returns comparison: pricing. Both Shopify returns management apps readily display their price plans on their listing page — we've broken them down for you.
Returnly is a return solution that allows customers to get the correct item before returning the incorrect one. Reduce shipping costs by optimizing return routing. Returnly is a San Francisco-based returns management platform. They have made a name for themselves by focusing on resolving the returns problem in eCommerce. One of their distinguishing features is that they provide customers with upfront refunds. Returnly will only be paid if and when the returned order is in perfect condition. This feature is a game changer in terms of customer and brand loyalty.
AfterShip Returns Center has four subscription-based payment schemes. The first is the Essentials, which, as the name suggests, includes everything you need to get started with eCommerce. This costs $11 a month and has a limit of 20 returns. To increase your return, simply add $0.50. A returns management portal, branded returns page, email notifications, returns analytics, basic refund and exchange options, and basic routing and eligibility restrictions are among its primary features and analytics.
The Pro Plan, which costs $119 a month and gives you access to more advanced tools, is next on the list. It has 400 monthly returns, 1 carrier plus USPS, 2 destinations, and 2 routing rules. You will have access to everything in Essentials plus, including auto approval and label creation, one-click exchange orders, multilingual returns pages, complex return methods, basic automation rules, and the ability to issue gift cards for Shopify only.
Premium Plan has been reduced by half till January 1, 2023. The monthly fee has been reduced from $239 to $119, which includes 400 returns per month, three carriers and USPS, unlimited destinations, and limitless routing rules. With the inclusion of auto-refund, exchange for other things, provide extra credit for exchanges, advanced eligibility criteria, sophisticated automation rules, and returns webhook, you can have everything in pro
Finally, the Enterprise plan includes complete customization and support, 1,000 monthly returns, 17 carriers and USPS, limitless destinations, and unlimited routing rules. Everything on the premium may include bespoke ERP and carrier connections, external single sign-on, sophisticated APIs, and a silver support package.
Unlike Returnly pricing, AfterShip Returns Center has a free forever plan that allows you to manage up to 3 returns/month.
Returnly, as part of Affirm, offers a Starter Plan with Shop Pay Installments for $49/mo. After January 31, 2023, pricing will revert to the standard reduced rate of $99/mo. Only new clients are eligible for this offer.
Customers may begin a return at any moment using Returnly, which includes automated labeling, variation exchanges, and gift return management. Simply define your policy, personalize your brand, and begin taking returns.
Returnly price plans are such that free usage is only available for 14 days through its Shopify free trial, after which you would have to pay at least $29/month.
In comparison, AfterShip Returns cheapest paid plan starts at $9/month and comes equipped with auto-approval, label generation, non-returnable rules, FedEx QR code (US only), and more.
Returnly's highest-priced plan costs $149/month, but there's no information on how many returns it allows businesses to manage. In contrast, AfterShip's pro returns plan starts at $99/month and allows up to 400 returns/month. For small and medium-sized stores, this is more than a decent allowance because they're unlikely to receive these many return requests each month.
The Clear Winner? AfterShip Returns Center
While Returnly and AfterShip Returns Center might be a close match for a returns management solution on paper, it's clear that AfterShip is more intuitive and flexible overall.
The platform offers a great returns portal, multilingual shipment updates, and various integrations for Shopify stores at SMB-friendly pricing. Due to the fact that it provides tracking after shipping, AfterShip Returns Center asserts that it aids businesses in improving the post-purchase experience of their customers.
What's more, AfterShip Returns Center is a certified DHL Express and FedEx® Compatible solution. You also get 24/7 customer support with AfterShip, so you can always seek help if you get confused about how to configure a certain feature.
Want to give it a try? Go ahead – it's free.