Loop Returns vs AfterShip Returns Center: Which is Best for Your Business?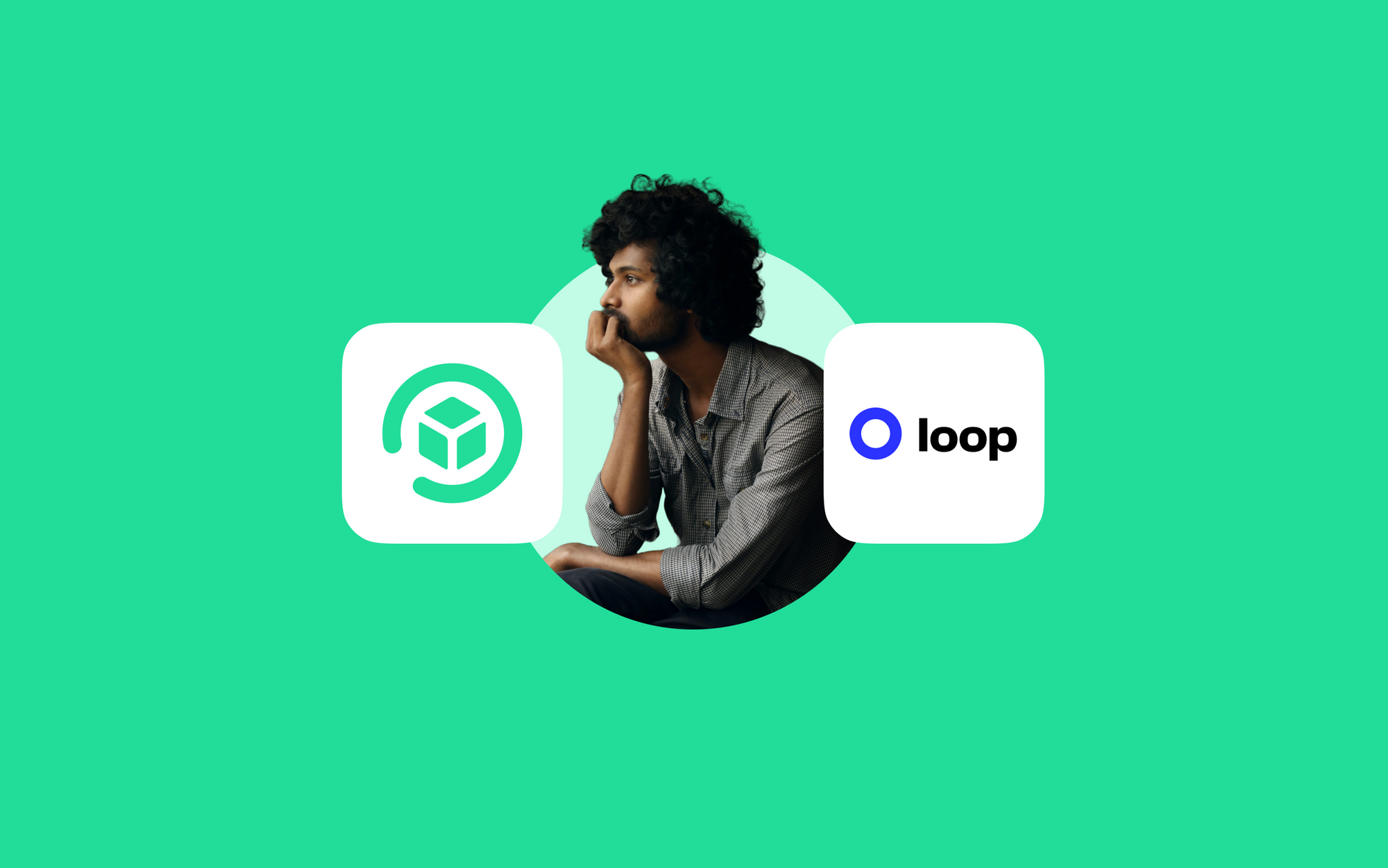 In case you didn't know, selling products as an eCommerce brand is only half the battle. Almost 30% of your sold products will make their way back to your business—whether they're damaged, faulty, or just the wrong size.
Since you'll be spending a third of your time processing returns, it pays to have a simple and streamlined platform to manage all the details. And what could be better than a cloud-based solution like Loop Returns or AfterShip Returns Center?
As you walk through the process of choosing a returns system, be sure to evaluate your potential options on all accounts. Let's take an in-depth look at Loop Returns and AfterShip Returns Center—going head-to-head on features, integrations, prices, and more—to determine the better choice for your business.
Loop Returns vs AfterShip Returns Center: platform capabilities
Returns management is an underrated and rarely addressed the issue in the area of eCommerce fulfillment and supply chain management, but it is one that many eCommerce enterprises must consider. A returns management process is essential for a healthy supply chain, essential for customer happiness, and may increase your bottom line.
It is unavoidable in any eCommerce business that your goods will be returned to you by your customers. The item may not match the description on your website, it may be the incorrect size, or they may just change their minds and no longer desire the goods they purchased. A returns management procedure is required in all of these circumstances along the returns process in order to manage such returns swiftly and cost-effectively.
AfterShip Returns Center is an engaging and self-service returns digital website that enables consumers to process returns without ever sending an email. The software is filled with features designed for expanding BigCommerce store owners to obtain visibility into all return requests in one location and speed up the return process.
Anyone familiar with eCommerce knows that successful returns make for a successful brand. As such, you'll need to pick a well-rounded returns platform filled to the brim with robust features that meet and exceed all expectations. Ask yourself: what kind of features do I need to be successful? Are there certain functions I can't run my business without?
We'll help you answer these questions by taking a closer look at how Loop's capabilities stack up against AfterShip's.
Returns management portal
When it comes to returns, 'work smarter, not harder' makes a lot of sense. You need to know exactly where your shipments are in the returns process. Your customers also want to keep a close eye on their returns as it makes their way toward your business. It only makes sense to work on a platform that offers a single-view dashboard for visibility.
AfterShip's returns portal is extremely easy to use, providing an interactive display of all your returns and where they are in the pipeline. You can quickly filter through and categorize requests. A simple approval system allows you to approve or reject return requests all through the same dashboard view.
The Aftership Returns Center consolidates all of your returns in one location to expedite the return process. This definitely makes your eCommerce store returns handling simple and accessible to anyone. You may notice items that are pending approval returns to check, approved returns to be mailed back and received shipments to be resolved as a result of this.
Furthermore, Aftership Returns Center appreciates operational efficiency, which a firm achieves by reducing its core activities while removing unnecessary procedures and waste. In general, this is accomplished through emphasizing resource usage, production, inventory management, and distribution. This can help you speed up the approval procedure for company returns and eliminate human mistakes.
You don't need to learn codes and formulae to keep track of all your returns in one spot using our because our platform will make it happen for you. AfterShip Returns Center offers a quick filter and search option without the need for a spreadsheet. In addition, you may approve or reject a return request with a single click. Its well-defined return statuses allow you to process a return request more efficiently.
If you don't feel like manually approving return requests, AfterShip also supports automated approvals and refunds that boost your overall responsiveness. Switching between these two functions gives you a better handle on return fraud and stops nasty mistakes from wreaking havoc on your business.
Most of the time, customers want to return a product that has clearly been broken by them. This may result in a loss of profit on your part as well as a flurry of activity in dealing with these refunds. Fortunately, the AfterShip Returns Center can minimize fraud rates by quickly evaluating questionable return requests and denying returns with a few clicks.
Returns and exchanges are complicated and expensive, and this will have an influence on your earnings as an eCommerce brand. You must engage customer service in order to advise your customers to return merchandise and account for shipping charges.
Consider having returns management software that automates the process of returning items, saves money on shipping, and reduces return rates. That will undoubtedly affect the game. Inherit Clothing and hundreds of other Shopify merchants have done this with Loop as their returns management software, which is a benefit.
Loop's Returns' management dashboard is fairly comparable and provides plenty of filtration options to locate current shipments. However, it's not necessarily the easiest system to navigate. There's also no way of testing processing events for labels, which might be a problem for your business. If you create test returns in the system, you'll never be able to remove them, which can get annoying fast.
Finally, Loop doesn't necessarily support a wide number of carriers (although they're a little cagey about it). In contrast, AfterShip Returns Center partners with 17 carriers and allows users to manually add pre-paid return labels to their system—even if the carriers aren't supported yet.
Customizable tracking page
Customers love personalization—even during the returns process. In fact, 99% of marketers believe that personalization advances a positive consumer-brand relationship. However, it can be challenging to create personalized return pages on your own, especially as a small business.
This is where returns systems like Loop and AfterShip step in to help. AfterShip, in particular, specializes in branded returns pages that let you customize colors, images, copy, and more. All customers need to do is enter their order number and email address to get the ball rolling, as you can see here:
One of the characteristics of Aftership Returns Center is its customized returns website, which provides customers with an appealing and self-service return experience in order to keep brand loyalty. This will undoubtedly increase sales engagement, which gives insight into the buyer's journey so that sales teams can measure how message, content, timing, and other aspects interact to form the buyer experience. The insights gained through engagement are then utilized to improve the quality and efficiency of the sales process.
Furthermore, the platform allows clients to print return labels in minutes without having to send an email. It is critical for eCommerce businesses to employ this since shipping carriers use return labels to identify the destination and trace the shipment, ensuring that it is returned to the seller or proper warehouse.
Even more striking is the software's ability to lower the return rate. This plainly implies avoiding the return of ineligible and discounted products. Reduced return rates add value to both merchants and their customers. At this point, keep in mind that a return implies a discrepancy between the shopper's anticipation and reality. So, to address typical reasons for returns, we may make changes to either the product or the shopper's impression of the product. This equals greater earnings and a more satisfied consumer base.
AfterShip's branded returns page also offers:
Codeless page-building tools for users who aren't developers
Featured products that can be dynamically displayed to customers
Multilingual page support for your international consumers
Loop Returns also offers a customizable tracking page, but it doesn't provide much information about what a user can change and whether any page-building tools are available.
AfterShip stands out from Loop for several reasons:
Codeless page-building tools for users who aren't developers
Featured products that can be dynamically displayed to customers
Multilingual page support for your international consumers
Loop Returns also offers a customizable tracking page, but it doesn't provide much information about what a user can change and whether any page-building tools are available.
Return notifications
The faster you notify customers about their returns' status, the more they'll trust your brand—cheering in delight even after purchase. The returns platform you choose should help you inform customers and stakeholders as quickly as possible, keeping everyone in the loop as updates happen in real-time.
To provide a smooth experience, Aftership Returns Center returns notification provides proactive information on the status of returns to drive customer loyalty and minimize queries. This will also improve your eCommerce brand awareness; convincing them that your items are worth the price you offer is another. The greater the amount of brand familiarity, the less hesitant a buyer will be to pay for what you provide.
Product returns are commonly regarded as a necessary annoyance and a financial drain. Companies, on the other hand, may exploit their return policies to boost consumer loyalty and revenues. You may convert returns into purchases by using the AfterShip Returns Center. Through their flawless return experience, it is more likely to reduce purchasers' initial reluctance, encourage them to buy again, and promote favorable word of mouth to others.
AfterShip offers some stellar customization options for return notifications, adding a little something extra to sweeten the pot:
Fully customized notifications without Returns Center's branding
Client timezone-based SMS updates
Notifications for warehouses and distribution centers
Multilingual email scheduling and SMSes
Loop's returns management notification is delivered via emails sent during the return process, which are intended to keep your customers informed and convey important information. Notifications are triggered by events such as a return being processed or an item being out of stock. However, they're not quite as simple to customize as AfterShip's notifications.
Analytics, automations, and other widgets
There are several other points of comparison between Loop and AfterShip, although Loop's website doesn't provide as much detailed information. Nevertheless, we'll give it a go!
Data analytics and dashboards
Both Loop and AfterShip provide data dashboards for tracking metrics in real-time. AfterShip's enterprise-level analytics walk through all the KPIs that are important to your business, then export them in the format of your choice. Loop also provides fairly detailed analytics, although export options may be a little limited.
Automation options
AfterShip's one-of-a-kind automation tools do more while you do less. All you need to do is hop into your admin dashboard to:
Streamline RMA processing
Automatic shipment received tracking
Approve refund requests immediately
On the other hand, Loop's automations are a little on the leaner side. Plus, you'll need to use multiple third-party integrations just to automate its services, which defeats the purpose of using the platform in the first place.
Loop Returns vs. AfterShip Returns Center: platform integrations
Nobody needs a thicker tech stack to deal with. If you're plugging into a returns platform for your eCommerce company, be sure it works with the tools and services you're already using.
This is where Loop really stands loud and proud. Users can plug and play with 40 integrations, ranging from 3PL to ERP.
But not all that glitters is gold. Most of these integrations are with very small companies that are not always useful in the average tech stack. Plus, there are no eCommerce platforms that come ready to integrate, which may be a problem as your company grows (if it isn't a problem already).
The AfterShip Returns Center software integrates many apps and services. It distinguishes itself from business application integration by focusing on supply chain management. By offering an integration platform, you may eliminate the complicated maintenance and communication channels established by point-to-point integrations and decouple the relationships between source and destination.
With AfterShip Returns Center, you can access more than 12 different eCommerce integrations, including Shopify, Squarespace, WooCommerce, and more. And with 129 different platforms and tools available on the full AfterShip suite, it still surpasses Loop on all accounts.
Loop Returns pricing vs AfterShip Returns Center pricing
Money isn't everything, but when you're a growing business just trying to scale your brand, it's definitely worth a passing thought. After all, you wouldn't want to spend your hard-earned money on a returns platform that doesn't exceed your expectations.
But understanding pricing is particularly difficult to do with Loop Returns. There are no hard numbers listed anywhere on Loop's website, but there is a tier list provided:
For AfterShip, all prices and features are listed right on the website. The basic plan is free forever and covers up to three returns per month with all the features you need to get started. Each subsequent plan is a little more involved, right up to the enterprise custom option.
Since Loop requires you to sign up for a demo before seeing its prices, it's a much less transparent option.
Like it or not, the returns process for your eCommerce company could make or break the customer experience. If you don't have everything perfectly lined up, you're bound to have a slew of headaches (and lots of dissatisfied customers).
Loop is no industry lightweight, but with lots of guarded information and tight-lipped details, its price point may be less accessible than other platforms on the market. Plus, AfterShip's free tier is almost impossible to beat—making it the winner of this round.
Give AfterShip a try for free
Returns management software is a crucial component of eCommerce infrastructure. It can help you maintain your business running smoothly and simplify the process for customers to return things in eCommerce. If you aren't already utilizing returns management software, now is the time to get started.
After assessing all the ins and outs of AfterShip vs. Loop Returns, it's clear that AfterShip Returns Center takes the cake for being just plain easy to use. It's fast, it's affordable, and it's oh-so-simple to set up. Best of all, it's totally free to use for three returns per month. You'll have everything you need to get started and grow your business—even on the free trial!
We hope that this post has assisted you in determining your brand's requirements and has given you a better understanding of what to look for when selecting the finest returns management platform.
Ready to give it a shot? Go for it—or get in touch with one of our teams for a little extra help.