Loop Returns vs AfterShip Returns Center: Which is Best for Your Business?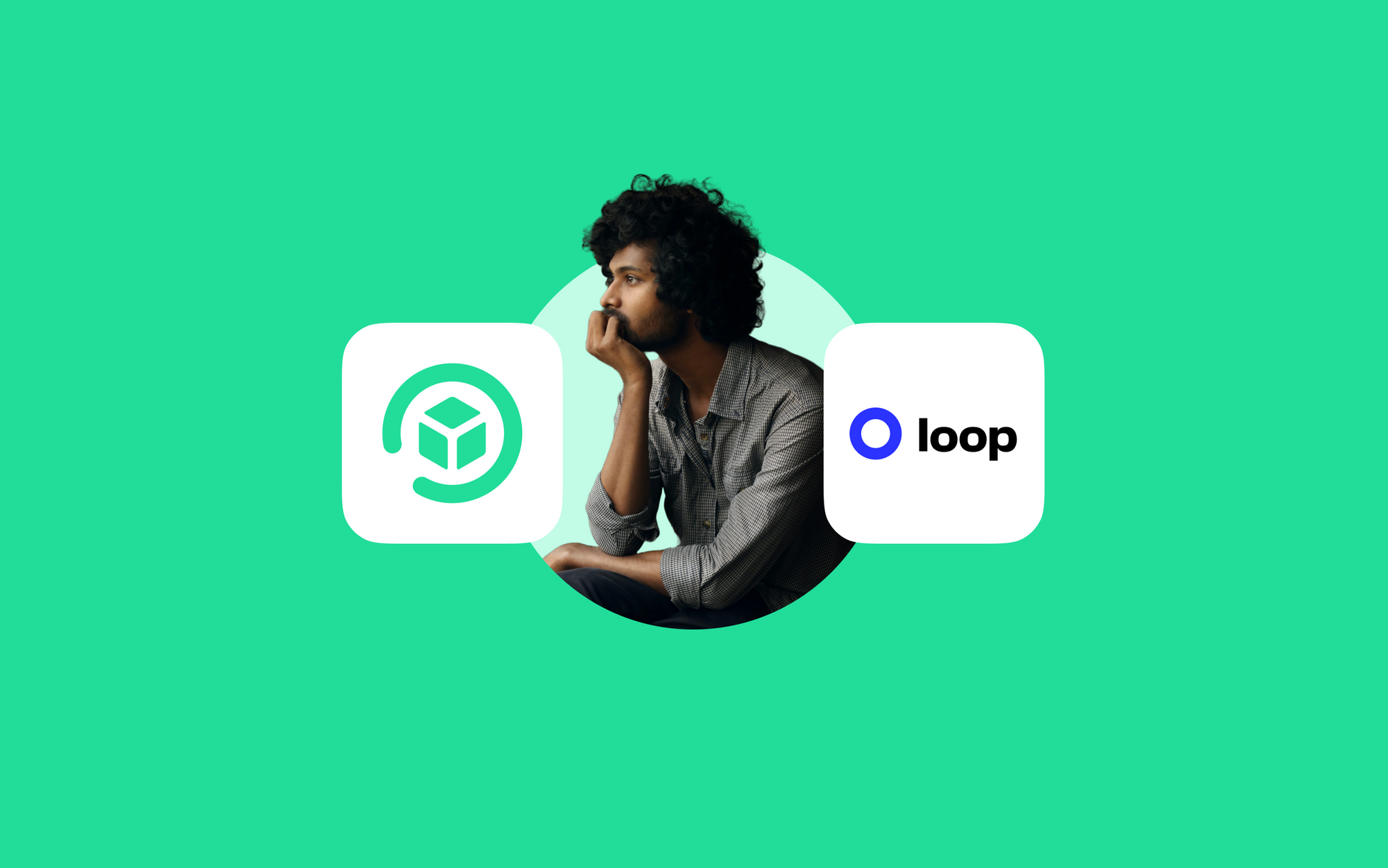 In case you didn't know, selling products as an eCommerce brand is only half the battle. Almost 30% of your sold products will make their way back to your business—whether they're damaged, faulty, or just the wrong size.
Since you'll be spending a third of your time processing returns, it pays to have a simple and streamlined platform to manage all the details. And what could be better than a cloud-based solution like Loop Returns or AfterShip Returns Center?
As you walk through the process of choosing a returns system, be sure to evaluate your potential options on all accounts. Let's take an in-depth look at Loop Returns and AfterShip Returns Center—going head-to-head on features, integrations, prices, and more—to determine the better choice for your business.
Loop Returns vs AfterShip Returns Center: platform capabilities
Anyone familiar with eCommerce knows that successful returns make for a successful brand. As such, you'll need to pick a well-rounded returns platform filled to the brim with robust features that meet and exceed all expectations. Ask yourself: what kind of features do I need to be successful? Are there certain functions I can't run my business without?
We'll help you answer these questions by taking a closer look at how Loop's capabilities stack up against AfterShip's.
Returns management portal
When it comes to returns, 'work smarter, not harder' makes a lot of sense. You need to know exactly where your shipments are in the returns process. Your customers also want to keep a close eye on their returns as it makes their way toward your business. It only makes sense to work on a platform that offers a single-view dashboard for visibility.
AfterShip's returns portal is extremely easy to use, providing an interactive display of all your returns and where they are in the pipeline. You can quickly filter through and categorize requests. A simple approval system allows you to approve or reject return requests all through the same dashboard view.
If you don't feel like manually approving return requests, AfterShip also supports automated approvals and refunds that boost your overall responsiveness. Switching between these two functions gives you a better handle on return fraud and stops nasty mistakes from wreaking havoc on your business.
Loop's Returns' management dashboard is fairly comparable and provides plenty of filtration options to locate current shipments. However, it's not necessarily the easiest system to navigate. There's also no way of testing processing events for labels, which might be a problem for your business. If you create test returns in the system, you'll never be able to remove them, which can get annoying fast.
Finally, Loop doesn't necessarily support a wide number of carriers (although they're a little cagey about it). In contrast, AfterShip Returns Center partners with 17 carriers and allows users to manually add pre-paid return labels to their system—even if the carriers aren't supported yet.
Customizable tracking page
Customers love personalization—even during the returns process. In fact, 99% of marketers believe that personalization advances a positive consumer-brand relationship. However, it can be challenging to create personalized return pages on your own, especially as a small business.
This is where returns systems like Loop and AfterShip step in to help. AfterShip, in particular, specializes in branded returns pages that let you customize colors, images, copy, and more. All customers need to do is enter their order number and email address to get the ball rolling, as you can see here:
AfterShip's branded returns page also offers:
Codeless page-building tools for users who aren't developers
Featured products that can be dynamically displayed to customers
Multilingual page support for your international consumers
Loop Returns also offers a customizable tracking page, but it doesn't provide much information about what a user can change and whether any page-building tools are available.
AfterShip stands out from Loop for several reasons:
Codeless page-building tools for users who aren't developers
Featured products that can be dynamically displayed to customers
Multilingual page support for your international consumers
Loop Returns also offers a customizable tracking page, but it doesn't provide much information about what a user can change and whether any page-building tools are available.
Return notifications
The faster you notify customers about their returns' status, the more they'll trust your brand—cheering in delight even after purchase. The returns platform you choose should help you inform customers and stakeholders as quickly as possible, keeping everyone in the loop as updates happen in real-time.
AfterShip offers some stellar customization options for return notifications, adding a little something extra to sweeten the pot:
Fully customized notifications without Returns Center's branding
Client timezone-based SMS updates
Notifications for warehouses and distribution centers
Multilingual email scheduling and SMSes
Loop Returns also offers email notifications, but they're not quite as simple to customize as AfterShip's notifications.
Analytics, automations, and other widgets
There are several other points of comparison between Loop and AfterShip, although Loop's website doesn't provide as much detailed information. Nevertheless, we'll give it a go!
Data analytics and dashboards
Both Loop and AfterShip provide data dashboards for tracking metrics in real-time. AfterShip's enterprise-level analytics walk through all the KPIs that are important to your business, then export them in the format of your choice. Loop also provides fairly detailed analytics, although export options may be a little limited.
Automation options
AfterShip's one-of-a-kind automation tools do more while you do less. All you need to do is hop into your admin dashboard to:
Streamline RMA processing
Automatic shipment received tracking
Approve refund requests immediately
On the other hand, Loop's automations are a little on the leaner side. Plus, you'll need to use multiple third-party integrations just to automate its services, which defeats the purpose of using the platform in the first place.
Loop Returns vs. AfterShip Returns Center: platform integrations
Nobody needs a thicker tech stack to deal with. If you're plugging into a returns platform for your eCommerce company, be sure it works with the tools and services you're already using.
This is where Loop really stands loud and proud. Users can plug and play with 40 integrations, ranging from 3PL to ERP.
But not all that glitters is gold. Most of these integrations are with very small companies that are not always useful in the average tech stack. Plus, there are no eCommerce platforms that come ready to integrate, which may be a problem as your company grows (if it isn't a problem already).
With AfterShip Returns Center, you can access more than 12 different eCommerce integrations, including Shopify, Squarespace, WooCommerce, and more. And with 129 different platforms and tools available on the full AfterShip suite, it still surpasses Loop on all accounts.
Loop Returns pricing vs AfterShip Returns Center pricing
Money isn't everything, but when you're a growing business just trying to scale your brand, it's definitely worth a passing thought. After all, you wouldn't want to spend your hard-earned money on a returns platform that doesn't exceed your expectations.
But understanding pricing is particularly difficult to do with Loop Returns. There are no hard numbers listed anywhere on Loop's website, but there is a tier list provided:
For AfterShip, all prices and features are listed right on the website. The basic plan is free forever and covers up to three returns per month with all the features you need to get started. Each subsequent plan is a little more involved, right up to the enterprise custom option.
Since Loop requires you to sign up for a demo before seeing its prices, it's a much less transparent option.
Like it or not, the returns process for your eCommerce company could make or break the customer experience. If you don't have everything perfectly lined up, you're bound to have a slew of headaches (and lots of dissatisfied customers).
Loop is no industry lightweight, but with lots of guarded information and tight-lipped details, its price point may be less accessible than other platforms on the market. Plus, AfterShip's free tier is almost impossible to beat—making it the winner of this round.
Give AfterShip a try for free
After assessing all the ins and outs of AfterShip vs. Loop Returns, it's clear that AfterShip Returns Center takes the cake for being just plain easy to use. It's fast, it's affordable, and it's oh-so-simple to set up. Best of all, it's totally free to use for three returns per month. You'll have everything you need to get started and grow your business—even on the free trial!
Ready to give it a shot? Go for it—or get in touch with one of our teams for a little extra help.