Expedited shipping: The definitive guide for businesses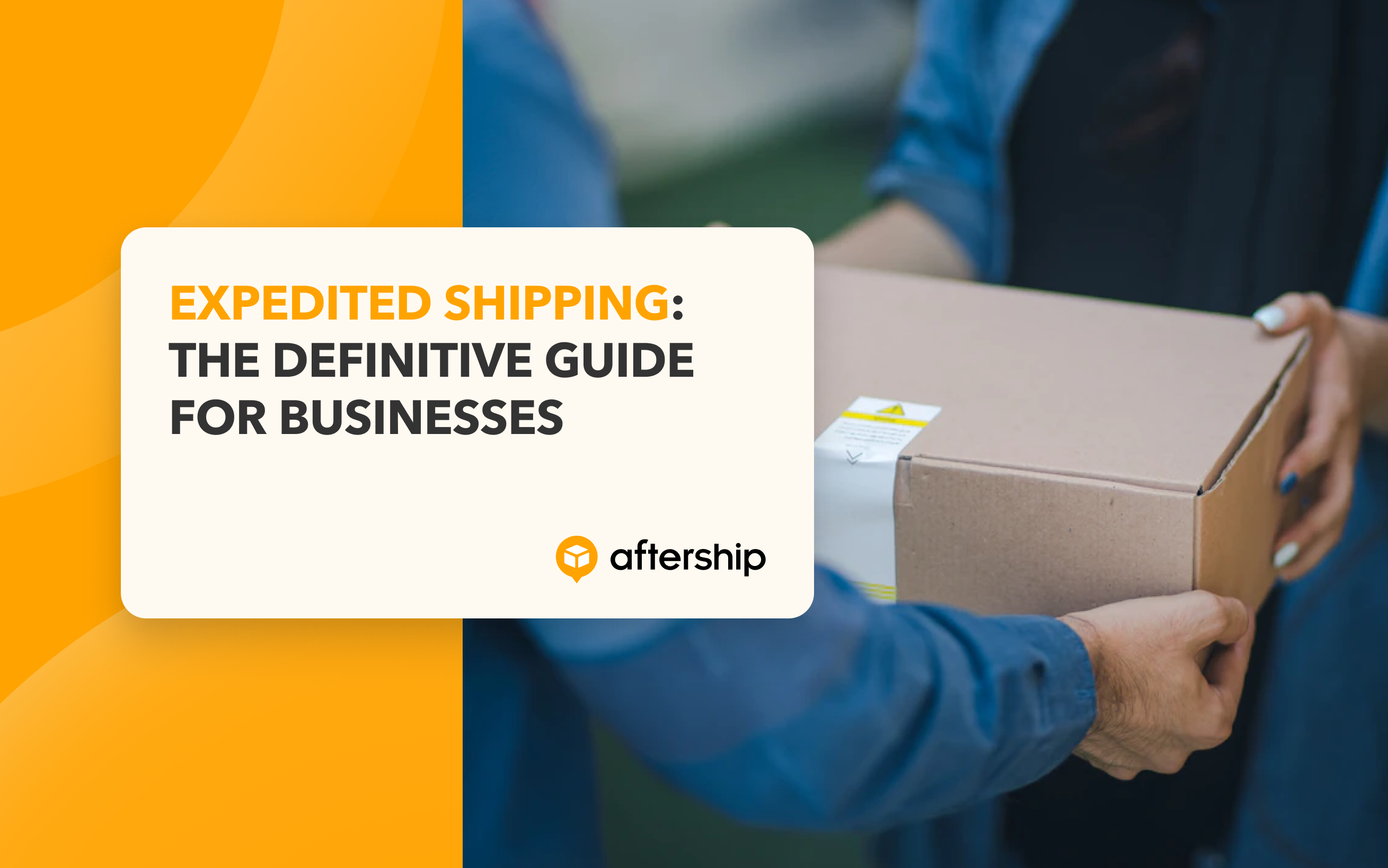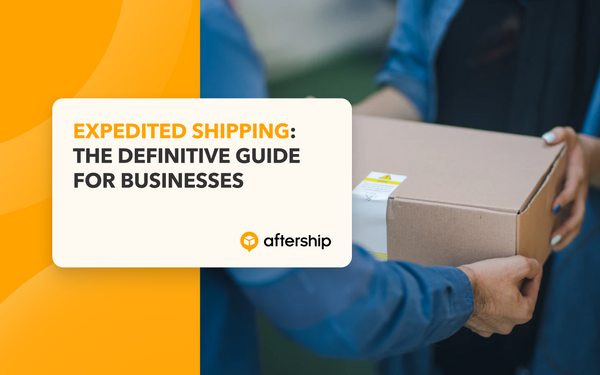 You'd have to be living under a rock to think that expedited shipping isn't an important business consideration. (But since you're reading this, we know you're not in that category — phew!)
As consumers, we're flooded with shipping choices that seem more like expectations than bonuses. Standard. Express. Next-day. Same-day.
And as an ecommerce store owner, you're likely wondering whether you need to offer expedited shipping to keep your customers happy — but you've probably got some questions, like:
What is expedited shipping exactly and how does it work?
How fast is expedited shipping?
How much is expedited shipping, and is it worth the cost?
In this article, you'll learn everything you need to know to navigate expedited shipping. By the end of this article, you should be able to find the right balance between your bank account and your customers' satisfaction.
What Is Expedited Shipping?
Expedited shipping (also called expedited delivery, express shipping, etc.) is an umbrella term that means a shipment will arrive at its final destination sooner than the 'standard' timeframe.
Many customers have come to expect that expedited shipping takes around 2-3 days, but the exact amount of time can vary depending on several factors, such as:
The shipping carrier being used (UPS, USPS, FedEx, DHL, etc.)
The package's origin and destination locations
The resources of the ecommerce company sending the shipment
Some companies offer time-definite expedited shipping, meaning that you'll know the latest day and time your package will arrive. For example, USPS Priority Mail Express guarantees the package will arrive within 2 days by 6 p.m.
How Does Expedited Shipping Work?
For packages to arrive faster, the shipping vehicles carrying them need to make few or no stops. In some cases, packages will be sent directly from origin to destination, with two truck drivers who can easily switch shifts.
If direct delivery isn't possible, carriers will organize routes so that delivery vehicles can make multiple stops along a clear and streamlined path.
The same rules apply for other shipping vehicles like planes or boats (although, let's face it — the average business-to-consumer (B2C) expedited delivery doesn't have free time to spend cruising across the Atlantic).
Carriers typically offer expedited shipping tracking as a bonus, to allow sellers and customers to keep an eye on their orders and make sure everything is going smoothly.
How Fast Is Expedited Shipping?
While it's generally expected to take a few days, there are a lot of factors that determine the meaning of "expedited delivery."
These factors might include (but aren't limited to) shipping carrier, origin and destination locations, and the resources of the selling company.
Let's look a bit closer at these 3 factors:
1. Shipping Carrier
Each shipping carrier (also called a courier) has its own systems, processes, and service offerings. These will all influence how quickly expedited mail will get from point A to point B, as well as how much it will cost the sender.
2. Origin and Destination Locations
Where's the package coming from, and where's it going? Your shipment will arrive much faster if it's traveling 100 miles versus 10,000 miles. This is why expedited international shipping will often take longer and cost more than domestic expedited shipping.
3. Ecommerce Company's Resources
If you're ordering from a small mom-and-pop shop (or if you're running one), shipping will usually take longer than it does coming from a larger company. This boils down to money and access.
Simply put: expedited shipping costs more, and small businesses often don't have the same resources to invest as big companies. This is especially true when those big companies have their own shipping infrastructure like Amazon, or special arrangements with one or more carriers.
How Long Does Expedited Shipping Take?
Let's look at expedited shipping times for 3 of the biggest carriers.
1. USPS Expedited Shipping Time
2. FedEx Expedited Shipping Time
3. DHL Expedited Shipping Time
How Much Is Expedited Shipping?
Consumers and business owners are conscientious of costs. Here are a few expedited shipping cost examples from some of the top carriers we discussed above.
Keep in mind that the prices listed are the starting costs, or the lowest possible costs for light shipments that aren't traveling too far. You'll need to explore your options to be sure of your costs.
As you explore your options, you may want to consider opening a business account with your ideal carrier. Chances are, they'll offer a discount if you meet a certain threshold of packages shipped.
Is Expedited Shipping Worth It for My Ecommerce Business?
In short, probably yes.
Thanks to the 'Amazon effect,' expedited shipping has become more and more important in recent years.
A study by Bain & Company shows some big shifts in what customers value. Consumers increasingly value lower costs, saving time, reducing effort, and avoiding hassles — all things that Amazon excels at. Meanwhile, consumers are putting less importance on things like rewards and education.
If you decide to provide an expedited shipping option, you don't necessarily need to absorb the extra costs. It's possible to pass the costs onto consumers — as long as you provide a good experience.
So, if they need to pay more for expedited shipping, make that perfectly clear upfront. Manage expectations so they know what's coming. And most importantly, keep your promises and give consumers a clear line of communication if they want to reach out.
Now, let's look at some expedited shipping tips to balance your customers' satisfaction with your company's budget and resources.
5 Expedited Shipping Tips to Keep Your Customers Happy

1. Try to Avoid Expedited Shipping Cost Surprises
In a 2021 study by Baymard Institute, a staggering half of participants said that they abandon their shopping carts because of surprise extra costs.
This can be an obstacle for smaller companies that can't afford to absorb shipping costs themselves.
But if you're in this boat, you can strike a balance. One way to avoid this "sticker shock" is to give them multiple shipping options, with the option to pay more for faster delivery.
More on that in 3… 2… 1...
2. Show Your Customers All Their Options
Some websites feature handy charts to show their customers how long a delivery might take based on where they live. This way, customers can make a more informed decision on whether they should pay the extra cost for expedited delivery based on their needs.
It also makes them less likely to feel like you're giving them the bait-and-switch or misleading them.
This example from North Carolina art supply store Jerry's Artarama shows estimated shipping times through UPS, as well as how fast customers will get their package if they choose next-day, 2-day, or 3-day shipping.
3. Send In-Transit SMS Notifications
Regardless of whether the customer is getting expedited delivery or not, an excellent way to be transparent and manage expectations is to offer in-transit SMS notifications.
In addition to standard email notifications, SMS messages will abolish the air of mystery that often surrounds the time a customer can expect their order.
Proactive notifications help to prove that you're on top of things and that your customers' business is truly meaningful to you. And at the end of the day, that's what it's all about, right?
4. Stay on Top of Your Shipments
Sure, you can track all your orders individually through your carrier. Or you can level up and consolidate all your shipment information into one place.
Having 360-degree shipment visibility will enable you to take care of your business and your customers more effectively.
A tool like AfterShip can help you do this in a snap.
Plus, it integrates with 839 carriers around the world, and this number keeps growing. You'll have beautifully detailed tracking options, showing an updated status of each shipment at any given time.
5. Test Your Options and Optimize as You Go
Should I try to offer faster delivery? If so, should I eat the extra expedited shipping cost? What about padding it into my prices?
As a budget-conscious small business owner, you could spend a lot of time racking your brain about expedited shipping.
It's wise to consider your options, but before you spin out of control, remember: there's no way to know what the best decision will be until you try it.
Turn it into your own little science experiment. Try an option, see how well it performs, then reassess if it's worth it to continue.
You might find that your store revenue, customer retention, or average order value stays the exact same whether or not you offer expedited shipping. In which case, it might not even be necessary to spend the extra money.
So think it through and then take action. Let the data speak for itself.
Final Thoughts
As an ecommerce customer, your relationship with expedited delivery is fairly simple. You do some shopping, the store (hopefully) tells you when you can expect your order, and you decide whether it's worth it to pay extra to get it faster.
But as an ecommerce store owner, these questions become a bit more complex. You'll need to take a close look at who your customers are and what they're expecting from your store.
You might find that customers expect expedited shipping, so this extra cost needs to be worked into your margins and your bottom line. Or, you might find that they're fine with longer delivery times as long as you're transparent about the process and deliver on time.
Whichever way the cookie crumbles, it's all about getting out there and giving it a shot. Pay close attention to your results, and keep tweaking and optimizing your process until you've nailed it.
And if you stay open-minded and resilient, you will nail it! 💪