Easyship vs. AfterShip: What is the Right Shipping Solution for Your Business?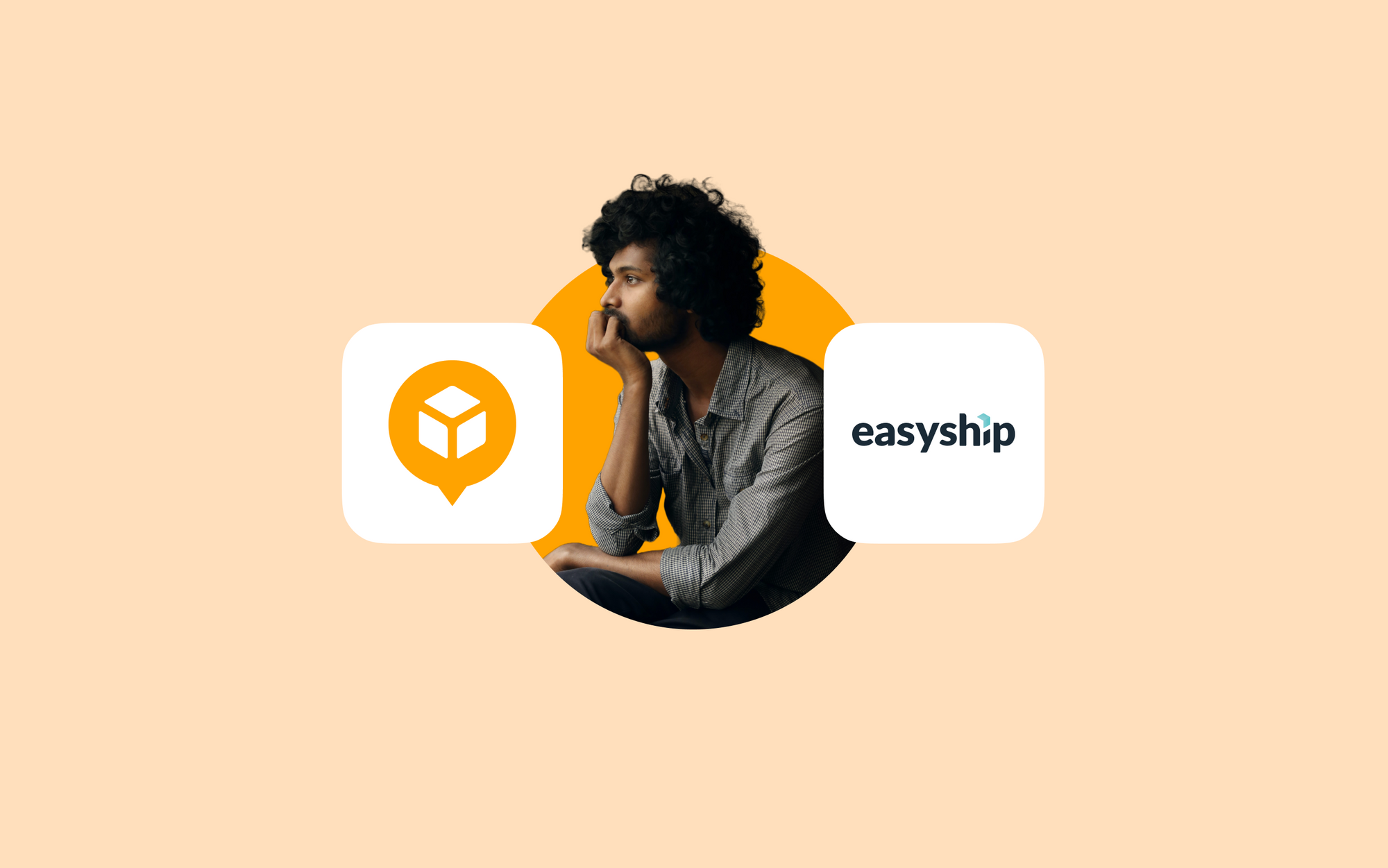 Is your business using the right shipping solution to get your products into your customers' hands?
AfterShip and Easyship are both great shipping solutions, but they have different features that might make one better for you than the other. In this article, we will compare the two platforms so you can decide which is the best fit for your needs.
No matter which platform you choose, shipment tracking will help keep your business running smoothly. You can easily stay on top of your shipments and ensure that nothing gets lost in transit with accurate tracking information.
Keep reading to learn more about the differences between AfterShip and Easyship!
Key features
Shipment visibility: Where is your package?
Both Easyship and AfterShip provide customers with shipping information such as the carrier, tracking number, and estimated delivery date. This information is displayed in a dashboard on the website and is also sent to the customer via email. These dashboards allow customers to track their packages every step of the way, and they can also view a history of their past shipments.
Beyond this, AfterShip also provides your customers with the option to be updated on the shipping status of their packages via SMS notifications or through a mobile app available both on iOS and Android.
AfterShip also uses a set of 7 key statuses and 33 sub-statuses to communicate the precise state of a shipment at any given time. This way, you always have the most accurate and up-to-date information about your shipment, and you will always have the right information on hand to share with your customers.
Analytics and data insights: Time for a deep dive
Easyship offers detailed analytics and data insights to help you make better business decisions.
With Easyship, you can track your shipping costs over time to identify any areas where you might be able to save money. You can also see how your shipping choices impact your bottom line and adjust your strategies accordingly.
In addition, Easyship's data insights can help you understand your customer behavior and optimize your shipping strategies to better meet their needs.
With AfterShip, you get data that allow you to evaluate not only the overall delivery experience but also the success of your marketing strategies.  AfterShip's analytics provide you with actionable insights into your marketing efforts and post-purchase engagement activities. With this level of data available, you can closely analyze your level of customer engagement and CTR (click-through rate) to optimize your marketing campaigns.
Branded tracking pages
Both Easyship and AfterShip provide you with the ability to customize tracking pages to match their branding.  This way, when customers track their packages, they will see your company's name and logo instead of the name of the shipping solution. It is a great way to keep customers connected to your platform and never have to leave your site to check the status of a package.
AfterShip also offers a simple copy-and-paste template for you to implement an order tracking widget anywhere on their site. This will allow your customers to quickly check on the status of an order with just one click. Your customers will never have a reason to leave your website to check for their order ever again!
Integrations: More connections for your business
Easyship integrates with popular eCommerce platforms such as Shopify, WooCommerce, eBay, and Amazon. This allows you to automate your shipping process and save time by syncing your orders from these platforms directly into Easyship.
Easyship also offers a range of value-added services and features that are designed to save you time and money. These services include order management, automated shipping labels, and return management.
AfterShip integrates with over 50 eCommerce platforms and marketplaces, including Shopify, WooCommerce, Magento, and Amazon. This allows you to automate your shipping process by syncing your orders from these platforms directly into AfterShip.
AfterShip also offers a range of value-added services and features that are designed to save you time and money. These services include automatic tracking, package tracking, order management, and return management.
Carrier partners
At the time of writing, Easyship currently supports carriers that deliver to 27 countries around the world. This includes partnerships with many familiar businesses such as UPS, USPS, FedEx, and DHL. The Easyship website currently lists several other countries where they hope to have shipping services soon, but service is not yet available at this time.
AfterShip, on the other hand, is partnered with 984 couriers that can ship to 72 countries across the world. This, of course, also includes larger carrier partners mentioned above, as well as several regional carrier partners in different countries, making it one of the most widely compatible shipping software solutions on the market. AfterShip is also able to intelligently detect a shipping carrier based on the tracking number format. This makes it even easier to track down shipments for both you and also your customers.
If your business needs a shipping solution with international reach, or you just want the flexibility to select between several carriers for the best rate and service, then AfterShip is the clear choice for you.
Customer support
Easyship and AfterShip both offer superior customer service for their clients. Each company offers a wide range of support options to help its customers with their shipping needs. Customer service teams are available 24/7 to answer questions and provide assistance.
Both solutions also offer self-service portals where you can find detailed instructions and tutorials on how to use their services. In addition, Easyship and AfterShip have knowledge bases that contain answers to commonly asked questions. You also have the option of live chat support for customers who need help in real-time. If you ever run into a problem, both Easyship and AfterShip have you covered.
Security and compliance
No matter what type of online business you have, security should be one of your top priorities. After all, if your website or app is hacked, you not only put your customers' data at risk, but this can also damage your reputation and cost you a lot of money to fix.
In response to the rising threats of online security, AfterShip offers all of its clients ISO 27001 certification which is the international standard that lays out the specifications for implementing an ISMS (information security management system). With this certification, you can be sure that AfterShip has met or exceeded the requirements for keeping your data safe.
AfterShip also boasts GDPR compliance which is roughly the equivalent of ISO 27001 certification for countries within the European Union. This is especially important for companies who do a lot of business in Europe, or if you are looking to expand into the European market in the future.
At the time of writing this article, it is unclear if Easyship is ISO 27001 certified.
Pricing: What will it cost you?
Easyship's pricing is based on the shipping volume of your business. For businesses that ship less than 50 orders per month, Easyship charges a flat rate of $5 per month. For businesses that ship between 51 and 500 orders per month, the monthly fee is $25. And for businesses that ship more than 501 orders per month, the monthly fee is $45. They also offer an enterprise plan with custom pricing should your needs go above what is offered for the $45 monthly plan.
AfterShip offers several tiers for their services as well. They offer a free tier that includes all of AfterShip's basic services. This is great for smaller businesses who don't ship products on a large scale, or for businesses that want to test-drive what AfterShip has to offer. They also offer Essentials, Pro, and Premium packages that allow you to ship anywhere from 100 to 2,000 packages a month. Subscriptions can be billed monthly, or annually at a discount.
Final thoughts: Should you pick Easyship or AfterShip?
So, there you have it. We've compared AfterShip and Easyship side by side to help you decide which shipping solution is right for you.
When it comes to features and benefits, AfterShip is the clear winner. With close to 1,000 carrier partners worldwide, AfterShip provides unbeatable choice, flexibility, and reach to provide you with the best service for your customers.
Both companies offer superior customer service to their clients. You will have access to a wide range of support options to help its customers with their shipping needs. Customer service teams are available 24/7 to answer questions and provide assistance.
If data security is of concern to your business, you can rest assured that AfterShip takes those concerns just as seriously. As a company with compliance certifications in both North America and the EU, you know that AfterShip always has the security of its users in mind.
All things considered, if you are looking for a new shipping solution to help your online business, it's clear that AfterShip is the right choice for you!