Automizely is Now Part of AfterShip's New Brand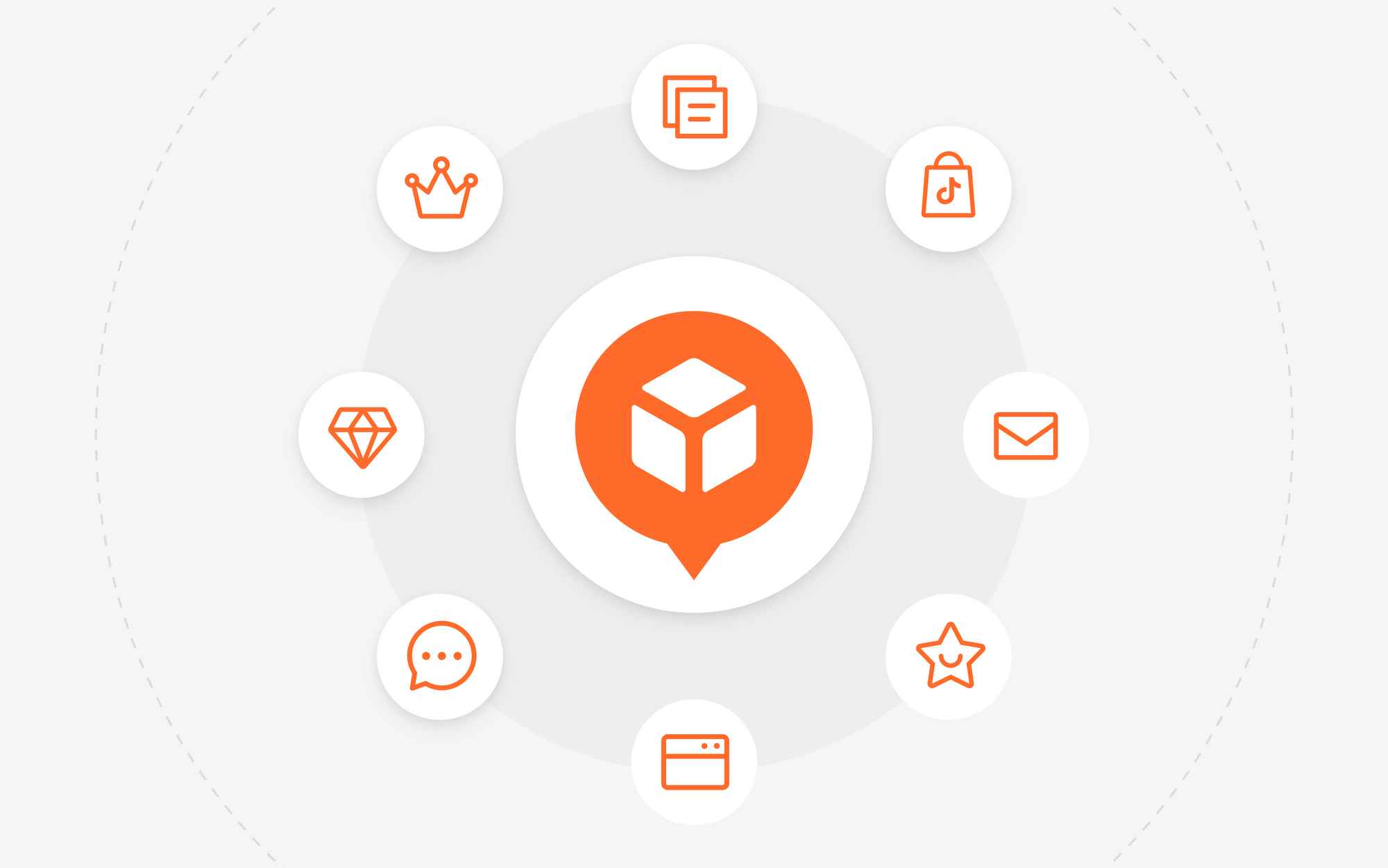 At AfterShip, we continually improve our users' experience with our products and services—from functionality, and navigation, to branding.
Having said that, we are delighted to inform you that we have officially rebranded and reorganized our pre-purchase solutions into the 9 following products: Email, SMS, Popups & Forms, Reviews, Personalization, Feed, Affiliates, Page Builder and Traffic.
We are delighted to introduce the latest version of AfterShip and can't wait to show you all it offers. Here's what you can expect starting April 24th, 2023.
What are the changes?
Our product names and logos have been revamped in admin portals and Shopify pages.
Everything will be rebranded under AfterShip, helping keep our brand consistent. We introduced AfterShip's new branding at the end of 2023, and you can read all about it here.
Here are the changes to our logos on the website: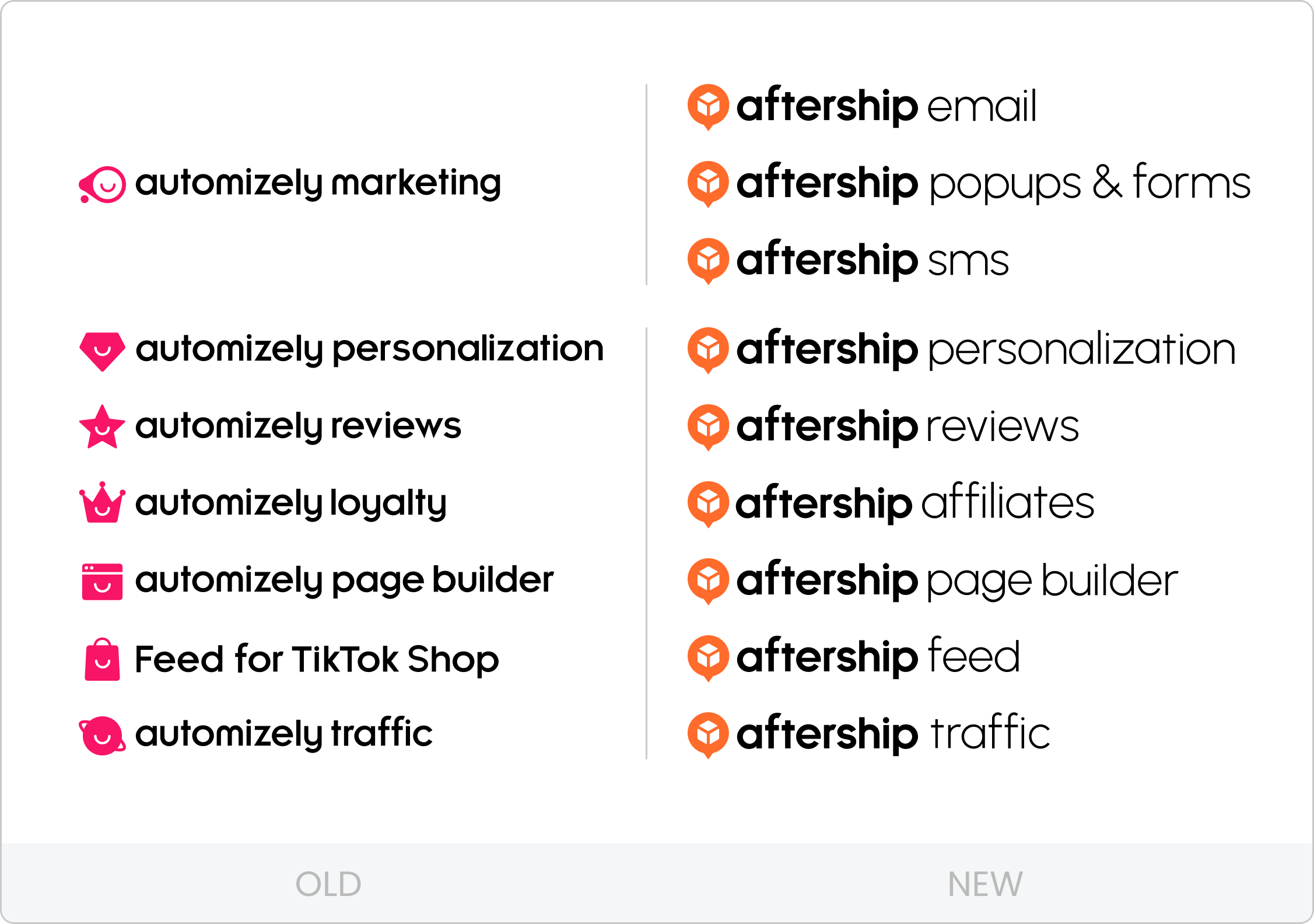 Shopify users and those without will find that the experience varies, yet both are sure to benefit from this shift.

If you are a Shopify user, you will see the following changes:

Automizely Marketing ➡️ AfterShip Email
Automizely Reviews ➡️ AfterShip Reviews
Automizely Personalization ➡️ AfterShip Personalization
Feed for TikTok Shop ➡️ AfterShip Feed
Automizely Loyalty ➡️ AfterShip Affiliates
Automizely Page Builder ➡️ AfterShip Page Builder
Automizely Traffic ➡️ AfterShip Traffic

App icons will also be updated: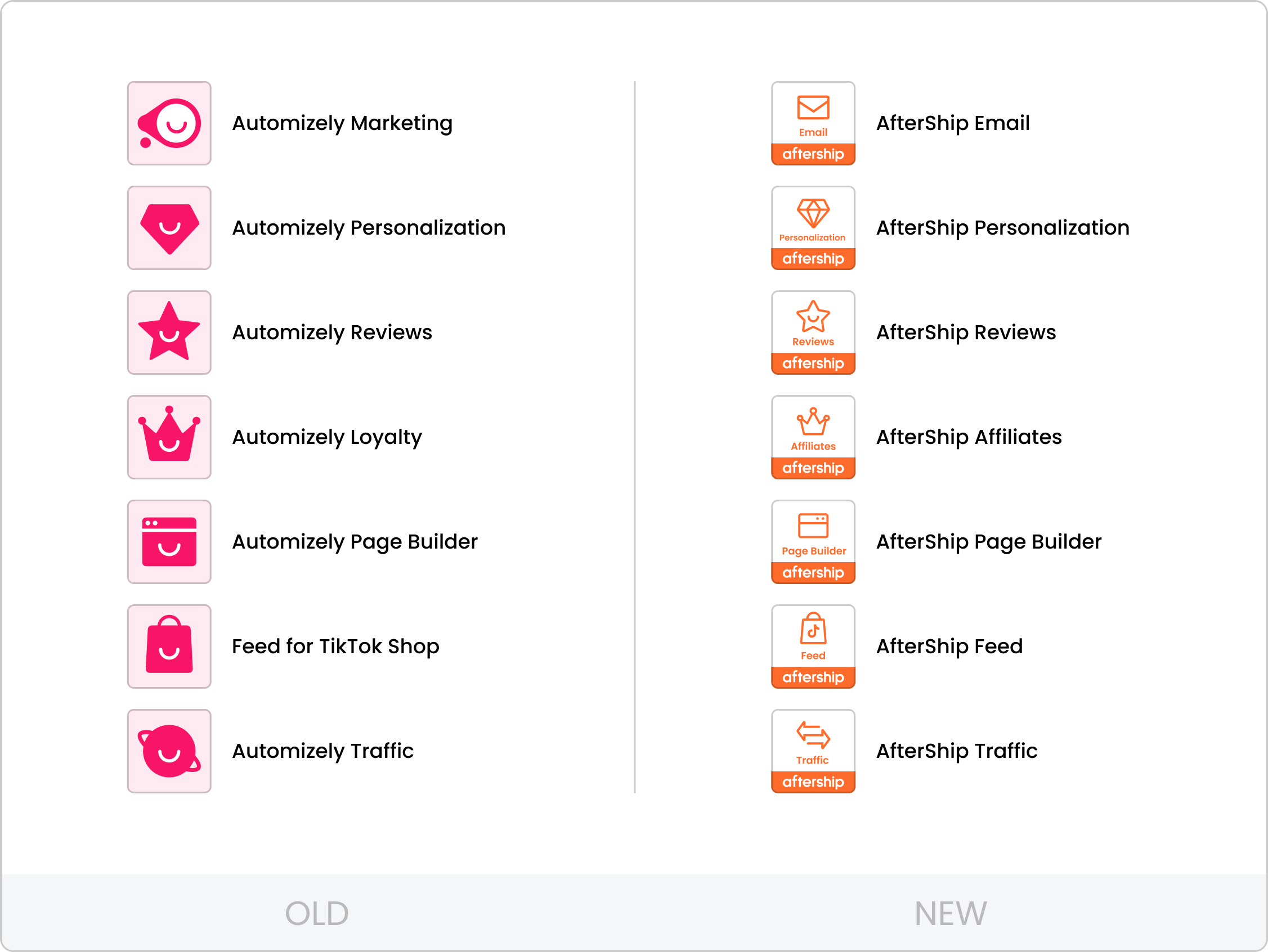 If you are a non-Shopify user, you can access the marketing admin portal in a few ways:
Gain access by visiting the homepage of AfterShip Email, AfterShip Popups & Forms, AfterShip SMS, or use the AfterShip homepage navigation bar. Our all-in-one navigation bar has also launched on the admin site, enabling seamless access to your marketing tools and data.
Here are the changes you can expect on the logos in the admin portal:

What does this mean for you?
Not only will our admin portals boast new, eye-catching names and icons - they'll be unified into a singular, all-encompassing portal for easy access to your marketing tools & data. With this change comes the promise of AfterShip's ability to furnish solutions that make every aspect of eCommerce simpler than ever before—all in one place!
Continuing this rebranding journey, we are committed to delivering the best possible user experience. We are confident these updates will help streamline your shopping experiences and make selling easier. Please reach out if you have any questions about this rebranding process or want us to walk you through it.
Terms of Service Update
Regarding all Automizely services, we have reflected the rebranding in the "definition" section of the terms of service by adding:
AfterShip Email
AfterShip SMS
AfterShip Personalization
AfterShip Popups & Forms
AfterShip Page Builder
AfterShip Reviews
AfterShip Affiliates
AfterShip Feed
AfterShip Traffic
All of these updates will apply from April 24, 2023.
Thank you for being part of our story!