Malomo Vs. AfterShip: Which is best for your business?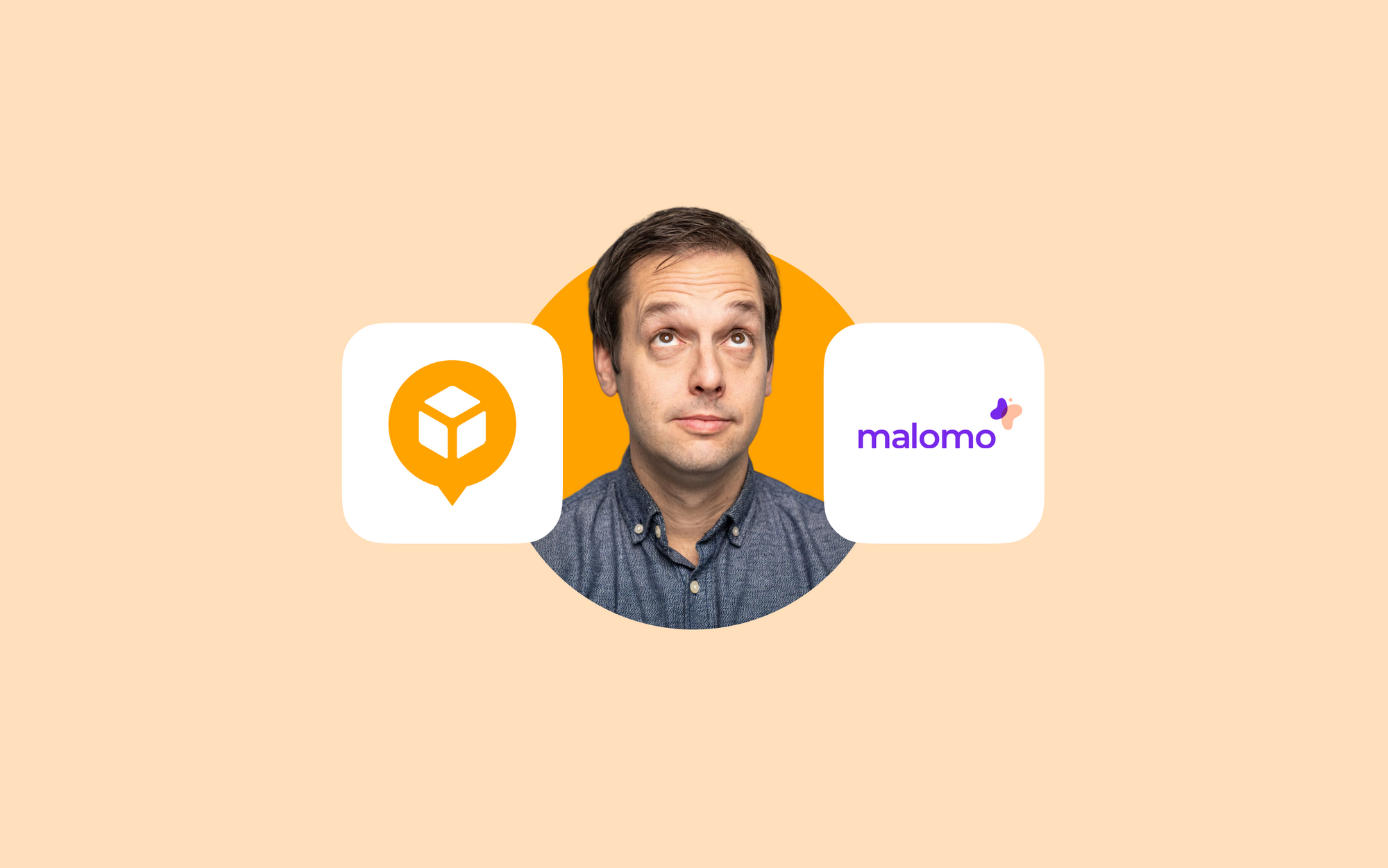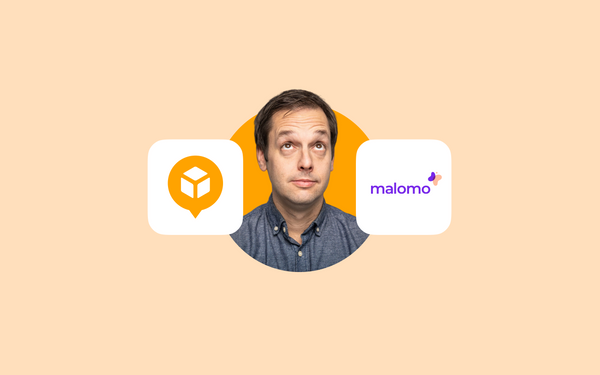 Ecommerce is booming, and so are the modern shopper's expectations for the brands they engage with. To stand out from the crowd, online retailers are in an arms race to provide market-leading customer experiences.
Yet, one post-purchase opportunity that still gets overlooked by even the savviest of eCommerce brands is the window between checkout and delivery. On average, a shopper tracks their shipment 4.6 times per order. During this time, the brand experience matters just as much as any other stage in the journey.
Enter shipment tracking platforms, software tools that empower eCommerce stores to make post-purchase the most memorable part of the customer experience through automated, on-brand shipment tracking.
In this article, we'll do an in-depth, head-to-head comparison between AfterShip and Malomo, two leading shipment tracking platforms. Read on if you've been exploring the two for your eCommerce store to make the right choice for your business.
Malomo vs. AfterShip: Platform capabilities
When it comes to picking a software tool, the very first thing to consider is the platform's capabilities. What are the features it provides to set your processes up for success? How robust are they? Will they solve your edge cases? Having answers to these questions is essential for you to pick a tool you can trust that delivers as your business scales.
Without further ado, let's find out how Malomo's capabilities stack up against AfterShip's.
Shipment visibility dashboard
The primary purpose of a shipment tracking platform is to enable your store's shoppers to track their orders with the click of a button. Yet, chances are, you would still have some customers reaching out to you with the dreaded "where is my order?" (WISMO) query. To help such customers, your team needs to have the information on the status of their order readily available, instead of having to manually pull it up.
With AfterShip, you get complete visibility into all of your store's shipments' status through a real-time dashboard. So that you and your team can get on top of each shipment, notice delivery incidents well before your customers do, and resolve them even faster. Malomo, however, lacks this capability at the time of writing this article.
Branded tracking pages
One thing that both Malomo and AfterShip do well are branded tracking pages, making sure your customer experience is on-brand, always. Here's how it looks in action:
There are some aspects where AfterShip's brand tracking page functionality is a notch above Malomo, and might be worth considering. With AfterShip, you can:
Use a drag-and-drop builder to create tracking pages
Include dynamic product recommendations for your shoppers
Create multilingual tracking pages instead of a standard one
Malomo, however, does not support these sub-features in its branded tracking pages functionality.
Shipment notifications
According to one Business Wire article quoting a survey of 1500 shoppers, 93% of them expect to receive proactive shipment updates, with email followed by SMS being the most preferred channel. It's quite clear customers want to be in the know.
Here again, both Malomo and AfterShip provide the functionality for you to deliver proactive updates to your customers for their order, with AfterShip offering a little extra on top:
Drag-and-drop email builder
Buyer timezone-based SMS scheduling
And, multilingual emails and SMSes
Order tracking widget, analytics, and more
Apart from the three functions we talked about above, there are others that are provided by both platforms. However, we couldn't do an in-depth comparison for them as not much info is available for them via the Go Malomo website.
AfterShip offers an order lookup widget
Features such as the order lookup widget, which allows customers to track their shipments with just one click, are a great value add to AfterShip's capabilities. However, we couldn't confirm if such a feature exists within Malomo's toolbox.
Both Malomo and AfterShip offer analytics
AfterShip, however, offers advanced analytics, such as on-time delivery (OTD) performance, accurately across carriers, tracking page and shipment notifications engagement, and more, which can help you optimize your post-purchase experience. From the Go Malomo website, Malomo's analytics seem to be limited to customer engagement and carrier performance.
Malomo vs. AfterShip: Carrier partners
As your eCommerce store grows, so will the number of carrier partners you work with to reach more shoppers in more places. Having been in business since 2012, AfterShip has been able to team up with more than 960 carrier partners worldwide to provide up-to-the-minute info to eCommerce stores and shoppers alike.
Malomo, on the other hand, currently supports only 4 major carriers — FedEx, DHL, USPS, and UPS.
Malomo carrier partners on Go Malomo dot com
In case your eCommerce store uses any carrier other than these, you'd be safer to go with AfterShip.
Malomo Shopify vs. AfterShip: Integrations
Given the current availability of eCommerce SaaS platforms, chances are you will be using a number of them to achieve one goal or another. Be it the foundation of your store, like your eCommerce platform, or something else, you would want all your system to be connected seamlessly. And it can't be any different for your shipment tracking platform.
In terms of integrations, Malomo Shopify integrates well with a handful of tools out there, and for eCommerce platforms, only the major one: Shopify (and Shopify Plus). If your store runs on any other, say Magento or Woocommerce, you're out of luck.
Unlike Malomo, AfterShip integrates seamlessly with 23 eCommerce platforms, including Shopify, Magento, BigCommerce, and WooCommerce, to name a few.
In total, AfterShip helps you integrate your eCommerce stack to more than 129 platforms and tools, which gives you greater flexibility.
Malomo vs. AfterShip: Customer support
It's a no-brainer that the platform you choose should have customer support you can count on in your hour of need (and otherwise too). Here again, AfterShip seems to trump Malomo with its 24x7 email and live chat support, dedicated help center, and more.
Malomo seems to provide support team access on its plans, however, it does not provide any other details on the Go Malomo website. They do, however, have a knowledge base with articles on common topics and FAQs.
Malomo vs. AfterShip: Security & compliance
Thanks to awareness campaigns and the trials big tech companies like Facebook and Google have had to face from the U.S. to Europe on their data practices, the general consumer now takes data privacy and security more seriously than anyone would have thought.
So, as an eCommerce business, it becomes imperative for you to ensure your systems are robust and secure. Not just to win your shoppers' trust, but for your own safety. The price for not investing well here could be too big to pay.  
Built for the enterprise, AfterShip's security standards are as high as it gets for the cloud. In addition to being certified with ISO 27001, the world's most rigorous standard for managing information security and privacy, it is also GDPR-compliant. For Malomo, we couldn't find any information regarding the same.
Malomo pricing vs. AfterShip pricing

Now we've finally reached the question your CFO would be most interested in: which one is better priced? Thankfully, information for both AfterShip and Malomo pricing is readily available on the AfterShip and Go Malomo websites, and we've broken it down for you.
Unlike Malomo pricing, AfterShip's has a free forever plan that allows you to track up to 50 shipments/mo.
Malomo pricing is such, that the free plan is only available for 30 days through its free trial, post which you would have to pay at least $99/mo.
In comparison, AfterShip's cheapest plan starts at $9/mo and comes equipped with email and SMS notifications, analytics, 24x7 support, and more.
Even for the plan that costs $99/mo, AfterShip's offering is better priced as it offers 24000 shipments/year, as opposed to the Malomo pricing structure of 2000 shipments/mo. This gives you more flexibility to reach your threshold in a more efficient way, as some months (read: BFCM) could be disproportionate in terms of sales.
In a Nutshell
We've had a look at a number of parameters, from capabilities to customer support, and the verdict seems to be a little obvious. Here's a quick recap of our comparison: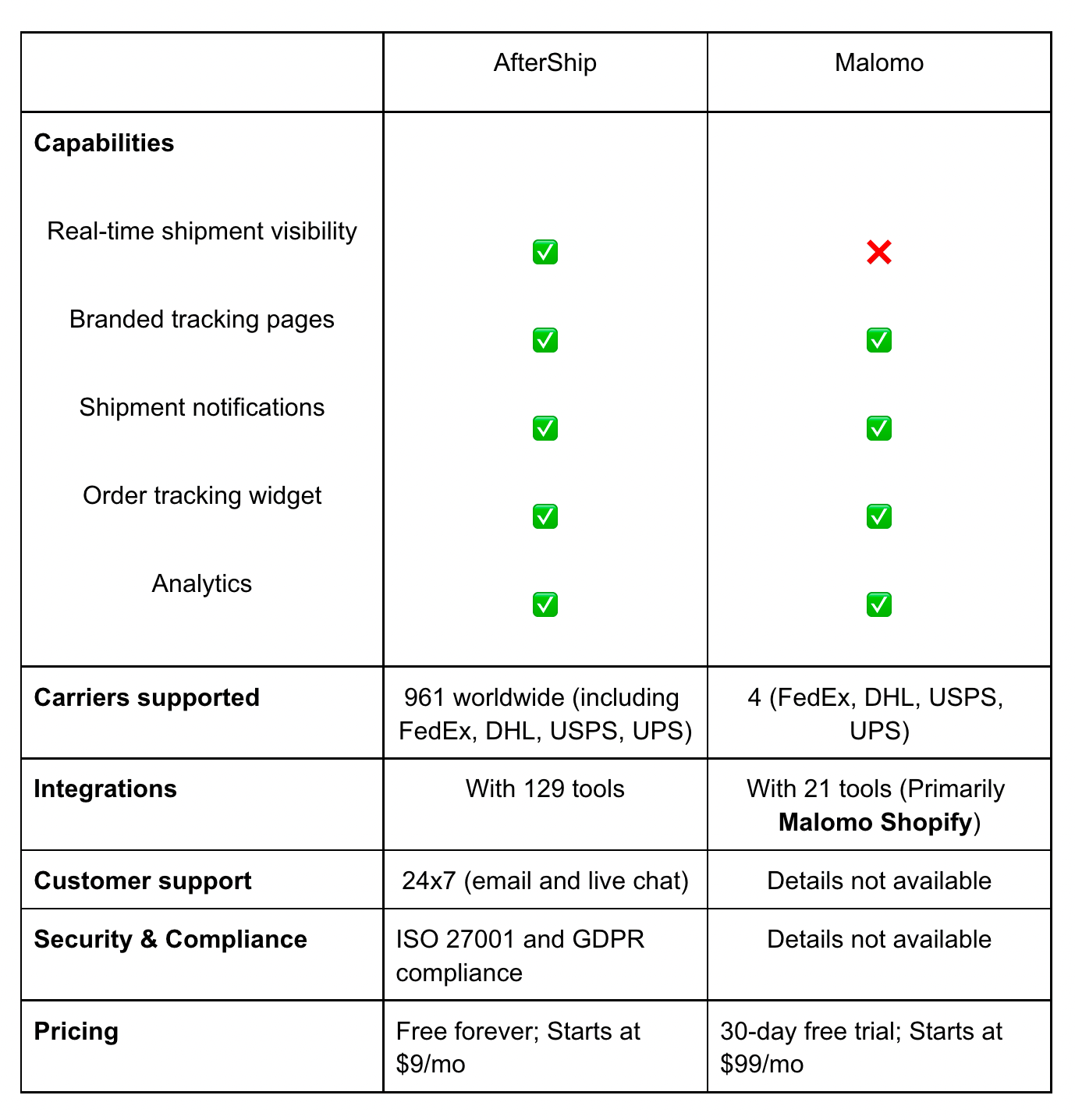 While Malomo is a great platform, AfterShip, with its better pricing, strong security, and compliance practices, a wide range of integrations, and more, should be the platform of choice for any eCommerce business when choosing between the two.