Convey Vs. AfterShip: Which is best for your business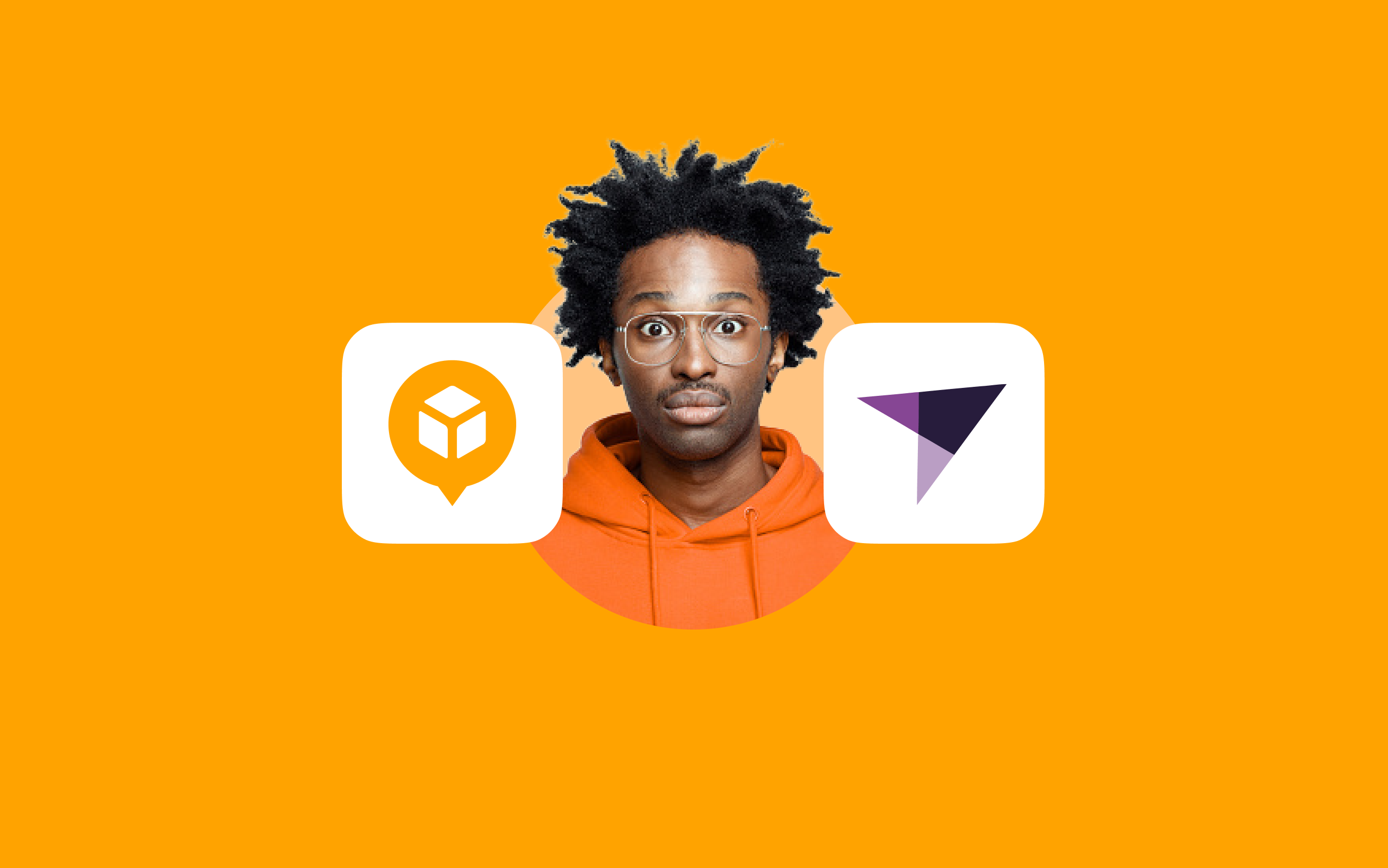 In today's ecommerce environment, customers expect a seamless order tracking experience. Whether it's same-day or two-day shipping, one carrier or multiple carriers involved, they want real-time visibility into their packages — across multiple touchpoints — without having to jump through a dozen multiple hoops.
Convey and AfterShip are two shipment tracking solutions that make it easy to provide a consistent, branded shipment tracking experience. Both connect you with hundreds of carriers worldwide and let your customers monitor the current order status on both mobile and desktop. But how do you decide which is the better option for your business?
In this article, we'll make a detailed comparison of Convey vs. AfterShip. You'll learn about their unique features, differences, pricing, and more to help you choose the best software for your online store.
Convey vs. AfterShip: Platform Overview
Before we put AfterShip and Convey head-to-head in various categories, let us briefly introduce the two platforms.
What is AfterShip?
AfterShip is a leading shipment tracking solution that empowers ecommerce businesses to grow and provide the best shopping experience to their customers.
With AfterShip, you can set up custom tracking pages that immerse people in your brand, plus drive additional revenue with personalized marketing assets and product recommendations.
Want to reduce WISMO requests? AfterShip lets you meet customer expectations by providing accurate expected delivery dates based on the different shipping processes of your store.
Over 100,000 businesses worldwide trust AfterShip for improving their customer shipping experience, including established brands like Microsoft, Dell, Pandora, and many more.
What is Convey?
Convey is a provider of delivery experience management software that helps businesses connect disparate processes and data from shipping companies.

The software gathers scattered carrier data from across the globe, organizes it, and intelligently connects it to all stages of the customer journey.
Convey also boasts many other capabilities to uphold brand expectations, including branded tracking, dynamic order updates, and more.
Among the renowned companies that use Convey are Walmart, UncommonGoods, Indigo, and Bobybuilding.com.
AfterShip Vs. Convey: How Their Features Stack Up
Now that you have some idea of Convey and AfterShip, let's take a look at how these solutions compare on the features side.
Shipment visibility

Today's online shopper expects companies to provide a transparent order tracking experience.
According to a MyCustomer survey, 82% of consumers consider it important that retailers proactively communicate every delivery and fulfillment stage, with many open to abandoning shopping baskets if they experience otherwise.
AfterShip gives you insightful tracking data in one place so you can provide accurate delivery updates to your customers — fast.
The platform automatically detects the carrier based on the tracking number you enter. You get the latest carrier updates in a unified format, making it easy to analyze important tracking data (e.g., expected delivery date, signature, and delivery time).
Additionally, AfterShip shares 7 key statuses and 33 sub-statues to help you make insightful business decisions. But if you prefer raw shipment data, you can bulk export shipments via CSV to identify and protectively address delivery issues.
The platform also offers other compelling benefits to those who subscribe to a plan, including:
Instant integration with over 960 carriers
Simultaneous access to order and tracking information
Shipment status modification
Bulk CSV imports
Convey doesn't cut any corners when it comes to shipment visibility either — the platform gathers data across billions of shipment events to deliver the most predictive, intelligent, and customer-centric delivery experience.
Convey's searching and filtering function works similarly to AfterShip's. You can search for shipments by any common piece of information, such as the order number of the recipient's name. Plus, Convey being carrier agnostic helps ensure efficient supply chain planning across any carrier in any form, anytime.
However, Convey does not say whether it allows merchants to bulk import/export shipments via CSV. Compared to AfterShip, you may not be able to load shipments as fast with Convey's import function.
Branded tracking
If you want to provide a consistent, end-to-end shipment tracking experience to your customers, the best way to proceed is to set up a branded tracking page on your ecommerce site.
A branded tracking page removes the need to visit a carrier's website, as people can directly access their package status on the website they order with.
Both Convey and AfterShip allow store owners to create branded tracking pages and drive additional revenue through personalization strategies and upselling.
AfterShip's branded tracking page comes with the following features:
End-to-end tracking enables customers to track their packages at every step of the shipment journey
Redirect delivery option to help route packages to another destination
Multilingual tracking offers a localized experience by delivering updates in the customer's language
Instagram feed allows brands to get creative and drive customer engagement using personalized recommendations
Convey also offers end-to-end tracking along with the option to embed relevant product recommendations on the tracking page.
However, it lacks a few things that AfterShip offers out of the box. For instance, you can't create multilingual tracking pages with Convey, nor can you add your Instagram feed to keep customers closely engaged with your brand.
So if you want to deliver an immersive shipment tracking experience to your customers, AfterShip is arguably your best choice.
Shipment notifications

Customer expectations go beyond having real-time visibility into their shipments. After the purchase, they want brands to proactively communicate the status of their package via shipment notifications. Fortunately, both AfterShip and Convey excel in this department.
AfterShip lets you send engaging email, SMS, and Facebook updates, from the moment an order is shipped to when it arrives at the customer's doorstep. You can opt to send alerts to customers, email subscribers, or yourself to stay updated with delivery incidents.
Want to personalize your shipment notifications? AfterShip lets you embed relevant sales deals and product recommendations to help drive additional purchases.
Convey, on the other hand, lets you send delivery notifications via email and SMS — but not Facebook Messenger.
You can reduce WISMO with vast customer reach configured to improve your customer care workflows, as well as easily collaborate with customers to update or modify the delivery date.
So while both solutions allow you to keep customers in the loop, AfterShip is better for serving customers that prefer Facebook for staying in touch with brands post-purchase.
Convey vs. AfterShip: App and Carrier Integrations

When choosing a shipment tracking software, it's crucial to check whether it can integrate with your existing business systems.
AfterShip integrates with all leading ecommerce platforms and apps to power your online business. You can offer shipment tracking via Shopify, WooCommerce, Magento, BigCommerce, PrestaShop, and more.
There are also apps for tracking Amazon multi-channel fulfillment orders, importing order info from US eBay and Walmart stores, and sending transactional SMS updates to your customers.
AfterShip integrates with over 960 carriers worldwide and counting. Download our courier list to see if your carrier partner is supported.
Convey also offers ecommerce integrations, but most of its supported platforms are enterprise-focused companies (a potential deal-breaker for small businesses).
Also, Convey doesn't say how many carriers it has partnered with, so you might need to set up accounts with certain shipping providers to relay order status to your customers.
The bottom line? AfterShip is the better option for store owners looking to offer shipment tracking through their ecommerce website.
AfterShip Vs. Convey: Pricing
Transparent pricing has always been paramount for small and medium-sized companies.
With AfterShip, there's no guesswork about whether you would be able to afford their shipment tracking solution. You get four clear, straightforward price plans, with the option to downgrade or upgrade as your business requirements change. These include:
Free: $0 per month with up to 50 shipments
Standard: $9 per month with up to 100 shipments
Pro: $199 per month with up to 500 shipments
Enterprise: custom pricing for 25,000 shipments
All AfterShip plans come with 30+ integrations and apps, developer support, GDPR compliance, and a 99.99% monthly uptime guarantee. If you're a team of two or more people, you can get multi-user access for $5/user/month.
Coming over to Convey, the pricing of the software is a mystery for most businesses. The company does not share pricing information for any of its plans — and getconvey customer reviews don't reveal the cost either. At this time of writing, the only way to learn about Convey's pricing is to get in touch with their sales team.
So if you're looking for a shipment tracking solution with clear, straightforward pricing and the ability to adapt to changing business needs, AfterShip is a perfect choice.
The Clear Choice for Your Business? AfterShip
While Convey and AfterShip might be a close match for a shipment tracking solution, it's clear AfterShip is the more suitable choice for SMBs and growing startups. The platform offers great shipment tracking features, various integrations, and 24/7 customer support for businesses at affordable pricing.
Convey can be the right option for enterprise companies, but whoever considers it will need to spend time getting familiar with its salient features and pricing. AfterShip has the edge over Convey thanks to its SMB-friendly plans and vast carrier network.
Best of all, AfterShip is flat-out simpler to get started with, so you can easily streamline your customer shipping experience and build loyalty post-purchase. Want to give it a try? Sign up for a free seven-day trial of AfterShip.